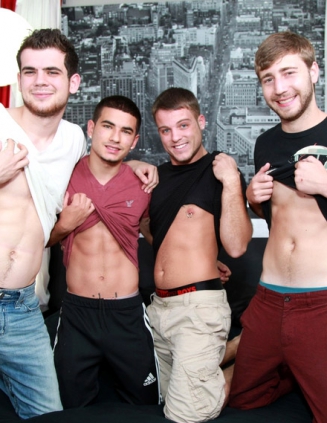 We've got four boys in front of the camera today, and they're all horny as fuck and ready to get at each other! That's right…Blake Savage, Vadim Black, Zeno Kostas, and Brandon Beal are here to get a little kinky in this super hot orgy scene! These guys waste no time stripping down and hooking up, some kisses are exchanged between Vadim and Brandon and between Zeno and Blake, and then the cock sucking starts!
Blake and Brandon go down on their partners first, getting those dicks deep in their throat, licking their balls and stroking those cocks as they get them good and hard! But these boys figure out quick that it's much easier if they form a line and they all give some oral to the lucky guy in front of them, and there's so much slurping and sucking and gagging going on it's impossible to tell which guy it's coming from!
After all that sucking dick, these boys are ready to fuck, and Brandon and Vadim bottom for Blake and Zeno and things get even kinkier as Brandon slaps Vadim while he's getting pounded! Zeno and Blake swap bottoms and fuck them hard, stretching their asses out as Brandon and Vadim kiss while they take those dicks. Some more oral and ass-pounding makes these boys shoot their loads onto Vadim, or in Brandon's case, into his mouth!