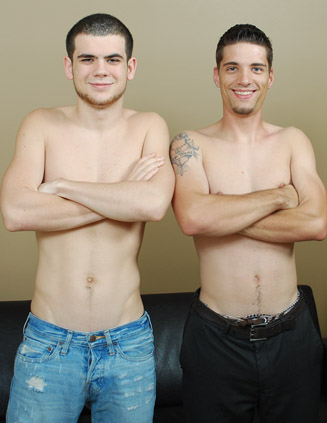 Blake Savage is back in the studio, along with Darren. Today, Darren is going to school Blake in the finer points of dick sucking.
Both boys were eager to get the show on the road so I had them stand up and take off their t-shirts, both boys chatted together,
Darren revealing that he had been hit up for child support for a son that lived in Alaska. Reaching over, Darren pinched Blake's
nipples, flicking them with his fingers before kneeling down and undoing Blake's jeans. Darren struggled for a moment to pull
Blake's jeans down to his ankles as they were quite tight but once done, Darren then gently massaged Blake's cock through his
black boxers. Blake grinned as Darren freed his cock from the confines of the soft cotton and jumped so that his cock bounced up
and down. A moment later, Blake and Darren got completely naked, their clothes thrown haphazardly on the floor before sitting
back down.

Cocks in hand, Darren and Blake slowly worked on getting their dicks rock hard, Darren saying that he felt like he was out of
shape but wondered what the Broke Straight Boy's members were going to think about it. Once the boys had dicks pointing
towards the ceiling, Darren decided that he was going to go first and show Blake what a talented tongue he had. With a huge smile
on his face, Blake looked like he was more than ok with Darren going first. Leaning over, Darren opened up wide and allowed the
thick cock to slide all the way into his mouth. As he fisted his own dick, Darren bobbed up and down, all the while, Blake gently
patted the back of Darren's head. Darren worked hard on Blake's cock, pausing only to leave a trail of kisses along Blake's upper
body. Blake, on the other hand, was relishing the feel of Darren's hot, wet mouth around his dick. Allowing the cock to slide in and
out of his experienced mouth, Darren made sure that he had Blake panting for more. All too soon for Blake, it was time for him to
show Darren what he had learned.

Darren sat back and got comfortable as he waited for Blake to have his turn at sucking cock. Although a little hesitant, Blake,
nonetheless, faced up to the challenge and started sucking on the head of Darren's thick cock. As he wasn't used to having a dick
in his mouth, Blake didn't go too far down and instead, concentrated his efforts on just the tip of the dick. Darren, however, was
immediately appreciative of Blake learning a new trade on his dick. Following Darren's lead, Blake let the cock slip from his mouth
so that he could plant a path of kisses up and down Darren's chest and stomach. While Blake was new to cock sucking, he still had
Darren moaning in pleasure. As Blake came up for some much needed air, Darren slapped his cock across Blake's mouth and
tongue before pumping his hips up and down as he gave Blake his first face fuck.

Switching positions, Blake got down on his knees while Darren stood up on the couch. Bracing himself against the wall for
support, Darren watched as Blake swallowed down his cock again. Blake gently bobbed back and forth for a brief moment before
Darren gained control of his cock again. With a hand wrapped around his shaft, Darren pumped his dick while Blake got daring
and licked and nibbled at Darren's balls. In a cheeky moment, Darren slapped his cock a few times against Blake's face before
Blake allowed Darren to slowly face fuck him again. As Darren got more and more turned on, Blake proved he was more than
capable at multi tasking as he both sucked dick and jerked himself off. A moment later, both boys were jerking themselves off at
a furious rate as they stood on the cusp of an orgasm. Groaning from all his hard work, Darren shot his load all over Blake's
shoulder and chest even as Blake kept wanking. Blake's face was a mask of concentration as he put in some serious wrist action. A
minute later, cum ran down the length of Blake's stiff dick and balls.