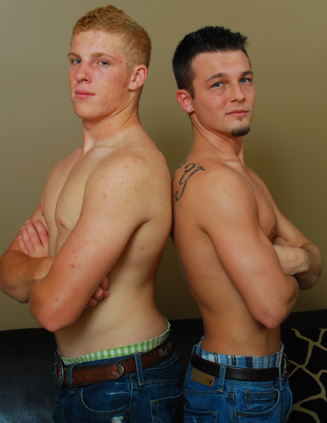 Hot redhead Connor is back in the studio, along with Ross, who is here to experiment with another
guy for the first time. Both boys have a few things in common, such as they enjoy riding motorbikes
and country music and it was easy to see that they had a great connection from the outset. The
boys stood up and stripped off extra quick, their clothes flying every which way. Sitting back down,
Ross and Connor played with their cocks in order to get hard. Like most of the models on Broke
Straight Boys, they didn't have any problems getting their dicks to stand to attention.

As he was the 'old hand' at things, Connor decided to take the initiative and show Ross just how well
another guy could suck dick. Sliding the thick shaft between his straight boy lips, Connor slowly
bobbed up and down even as he jerked himself off. Ross, right away, was in heaven as he enjoyed
the feel of a hot, wet mouth surrounding his dick. It was no surprise to see that Connor's confidence
had grown since his last appearance in front of the camera and he had no hesitation in licking up and
down the smooth shaft. Gently pressing down on the back of Connor's head, Ross hinted for him to
go all the way down. 'Have you ever face fucked before?' asked Connor. Ross just grinned shyly
before suggesting they give it a try.

Holding Connor's head still, Ross leisurely rolled his hips, his cock thrusting deep into Connor's
mouth. They kept it up until Connor choked and had to pull off to regain his breathe but like a
professional, Connor immediately went right back down on Ross. As Connor went to grasp the base
of Ross's hard shaft, Ross reached over and took control of Connor's dick. It wasn't long before
Connor suggested they do something a little different so Ross stood up while Connor got down on his
knees in front of him, swallowing the hard cock once again. His hand clasping one of Ross's ass
cheeks, Connor licked.. nibbled.. and sucked on Ross's nicely shaped dick, all the while, Ross was
clearly enjoying every moment of it. Ross even got daring, drawing his dick from Connor's mouth in
order to tap it a few times on Connor's tongue. It was easy to see just how much Ross was enjoying
himself as he had a huge smile on his face as he watched Connor blow him.

Slapping his cock against Connor's tongue again, he asked Connor if he liked it, Ross's grin growing
wider when Connor agreed that he did. Connor's knees were getting sore from kneeling so the boys
swapped back to the futon; Ross sitting down while Connor draped himself over Ross's lap. Ross
was rather forward about helping Connor out, grabbing hold of Connor's cock and setting to work
while Connor lavished Ross's own dick with his undivided attention. It was mere minutes before
Connor decided they should switch positions again, obviously, he had too much energy to burn. Ross
sat up on the back of the futon, Connor kneeling in front of him. Connor bobbed up and down as he
encouraged Ross closer and closer towards cumming, even going so far as to suck on Ross's heavy
balls, something that had Ross moaning in pleasure.

Suddenly, Ross whispered that he was about to cum. Connor, a huge grin on his face, got in close
and stuck out his tongue but Ross told him to keep sucking on his dick, which Connor helpfully did.
Moments later, Ross slid his dick out of Connor's willing mouth, Connor asking him if he was ready
to cum and if so, to put the cum on his tongue. Ross, with only a few hard tugs, quickly came, cum
spurting into Connor's open mouth and onto his waiting tongue. Connor then stuck out his tongue
and showed it off for the camera.