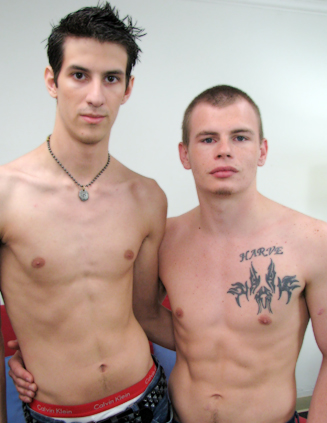 Nathan and Mikey are back in the studio today to do their anal scene as a follow up to their oral shoot. They flipped a coin to see who was going to bottom and it turns out that Nathan is the one who lost the coin toss. Understandably, he is rather nervous about what's going to happen as the last time he bottomed on Broke Straight Boys, 'Tank' Shane was the one who topped him, and lets face it, Mikey doesn't have a small package. Nathan decided that he wanted $100 for every inch he takes of Mikey's cock, and at 9 inches, I'd say it's a fair price while Mikey was happy with $500. The boys started stripping off to their underwear, their joking around lending a relaxed atmosphere to the shoot. There was quite a bit of difference in their heights, Mikey being 6'1" while Nathan was 5'7". I got Nathan to turn around and pull down his underwear, showing the BSB members his nicely shaped ass.

Putting on the porn, the boys worked on their cocks, both getting hard in only a few minutes. Underwear quickly shed, Mikey decided he would give head first, leaning over and swallowing down Nathan's dick. Nathan stood up on the futon, a position that allowed Mikey to suck on Nathan's cock easier while fisting his own dick. Eyes closed, Nathan guided Mikey's head with his hand, breathing heavily as Mikey worked hard. They swapped; Mikey standing on the futon, roughly face fucking Nathan who was kneeling in front of him. Nathan had obviously picked up some cock sucking skills during his time at BSB as he soon had Mikey moaning for more. Mikey was a little too rough with his thrusting into Nathan's mouth, causing Nathan to choke on his cock. Mikey wanted another turn at Nathan's dick so they both sat back down on the futon, Nathan watching the porn as Mikey bobbed up and down on his cock. With a heavy hand on the back of Mikey's head, Nathan forced Mikey to keep sucking even as Mikey jerked himself off. Soon enough, they were both ready to keep it moving along.

Condom on and both lubed up, Nathan decided that they would try doggy style first. On his hands and knees, Mikey kneeling behind him, Nathan took deep breathes to try and relax. Slowly, Mikey slid into Nathan's tight ass, getting all the way in one thrust. Mikey was able to set a steady pace right away even as Nathan moaned with every thrust. He was in a bit of discomfort from not having bottomed for so long and also from the size of Mikey's cock but he was taking it well for a straight boy. Mikey alternated between pounding Nathan's ass hard and fast to sliding in and out in deep, slow thrusts, all the while, Nathan was getting used to having a cock in his ass once more. Nathan turned over onto his back, breathing hard from having Mikey ride his ass, and said that he wasn't finding it pleasurable as it was hurting too much but the money was going to get him a new motorcycle. After taking a break for a few minutes, Mikey put on a fresh condom and slid right back into Nathan's ass even as Nathan held his legs open.

Pounding Nathan's ass hard, Mikey wrapped a hand around Nathan's neck, choking him as he got fucked. Shifting so that his legs were up around Mikey's neck, Nathan, with his eyes screwed shut, concentrated on just laying there and taking Mikey's huge cock as best he could. His hips snapping back and forth, Mikey announced he was about to cum, and sure enough, he dribbled cum all over Nathan's stomach. Not far behind him, Nathan wanked off furiously, shooting right into the centre of his chest. Both guys were tired from all the fucking, especially Nathan. I'm sure they will be back in the future and who knows, maybe I can convince Mikey to bottom for Nathan?