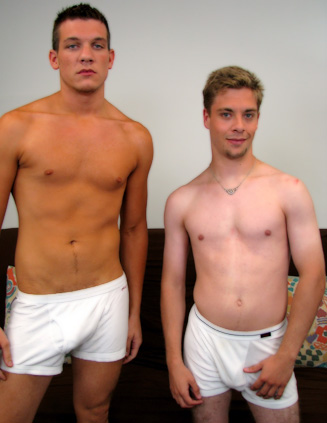 We welcome back straight boys Jayce and Sean. After seeing them in there Oral scene. I have the back and I wanted them to do an anal scene together since I really liked them in there Oral scene together.
I didn't want to offer the boys a flat rate...so I asked them how much do you really need? Jayce started off first and he added up all his bills and he figured that he will need $1500 and it was agreed that both boys can use $1500 each. However, to make this kind of money, I told them both they will need to do anal. Sean has been on the site before so he has been bottom but Jayce is a different story and we are trying to break him in with this whole anal sex thing. Jayce bottomed before for Sean and now its time to see if he can top. Sarcastically, Sean is thrilled to death about bottoming but this gives us a chance to see Jayce top. Sometimes it easier to bottom and take one for the team and to collect the money, but some straightboys are not willing to bottom so fast. In this case at least Jayce is keeping an open mind and trying gay sex and what it has to offer.
Like with all our anal scenes, I have the boys warm up to do some oral action scenes and Sean really gives Jayce a really great blowjob...since they have been together its very comfortable to have them do oral...but I'm not paying them to do oral..I want these boys to fuck. Since Jayce has a really nice hard cock..I have him put on his condom and open the futun to start out with fucking Sean.
They first start out with doing doggie style and Jayce inserted his hard cock into Sean's tight ass. Sean has a really nice ass, smooth and tight and ready for action! Watch these two as Jayce fucks Sean hard and good. I think Jayce is a better top then bottom as he was really fucking Sean's ass really good. I suggested that Jayce turns Sean around and then starts fucking Sean on his back. I'm amazed that Sean is stroking his cock while being fucked in the ass and keeping a raging hard on as Jayce fucks him really hard. While Jayce is giving him that anal assault, Sean's cock is throbbing and ready to cum. Sean cums a big jizz while Jayce his fucking him nice and hard as Sean spurts his cum all over his chest as he spurts more come. I was shocked as to how much cum was being shot out of his hard cock. Jayce kept on fucking away not pulling out. He didn't care, he just kept on fucking Sean's ass until he was ready to explode. Jayce pulls out and removes the condom and relieves his hot jizz landing on Sean's already cum covered body just adding more jizz to the pile of cum. These two really hit home with this scene, this is a must see for those that are a fan of hard cocks and great anal action.