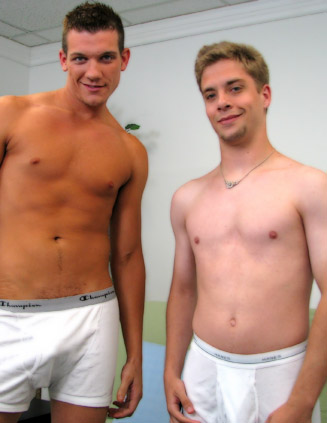 Jayce is one of our boys that travel around doing broke straight boy parties, and he is often times traveling so much that it is hard to get him into the studio. I was able to get him to do a solo shoot not too long ago, and it was then that he made a comment that he would be willing to try more, because he would make more than just traveling around. Well, when he told me that he would have a couple weeks of down time, I setup a time for him to come into the studio for a shoot. Hitting the phones, I started talking to models to see who to pair him up with, and one boy that stood out to me was Sean. He had been to the studio for work a while ago, and he needed the work again. I arranged for him to come in and do the shoot with Jayce. The day of the shoot Jayce arrived early just so that we could hang out and talk a little bit beforehand. When Sean showed up the boys got a quick handshake and to say hello before we moved them into the shoot room. They took a seat on the couch, and I started with introducing Jayce, and his background with working with Broke Straight Boys.
Besides my request for him to come into the studio for work he wanted the extra money, so that he could afford to buy his girlfriend something really nice for her birthday next month. I asked what kind of gift he would get for her and his response was a ring. Right away, I thought that he was going to propose, but he said no it would just be a ring. Also found out that his girlfriend was 21, and currently going to school. He is going to school as well for architecture as a career. Moving over to Sean, he had been in a car accident a couple months back, and was just trying to pay the bills to get caught up. His rent was due and he needed to come up with the money, which would be covered doing this one shoot. Sean has a roommate, and she happens to be his cougar girlfriend. The last time that Sean was in the studio he bottomed for us, and he said that was the only time that he did it. I told him that I would love to see him do it again, and top as well. However, the plan for this shoot was to introduce Jayce slowly starting out with an oral scene first.
First, the guys needed to get undressed, and they both got to their feet and removed their shirts. WOW! These boys were different from one another in so many ways, but also they both would appeal to everyone. Starting with Sean, he was very white, and needed to get some time outside for a tan. While he had some muscle tone in his upper chest and abs that caught my attention. He just wasn't over the top ripped, but he would appeal to the guys that like shorter lean, young boys. As for Jayce right away his height caught my attention along with his tan. My jaw hit the floor seeing how tan his whole body was, and developed as well. His chest, stomach, and arms all looked so good that you wanted to reach forward and touch them. It didn't take long for Sean to mention that he was jealous of Jayce's tan and body. The boys continued to get out of their clothes, and once they were in their underwear they took a seat on the couch. I asked what kind of porn they wanted to watch, and Jayce said nothing, but straight porn. Of course, I had to play some mind games with him and try to get him to say yes to gay.
After getting semi-hard and turned on, it was time for the boys to start with some oral action. Being that it was Jayce's first time, I figured it was only fair for Sean to go first and show him the ropes. I knew that Sean wasn't nervous, and would do anything that I asked. He leaned over and put the dick in his mouth. As he started to suck on it, I watched Jayce's face and after a while he started to look like something wasn't going right. I asked him if anything was wrong, and he just made a comment that it was a little weird. Replying back to him, I told him to just give it a few more minutes and he would enjoy it. That's when I remembered that Jayce's nipples were sensitive and I told Sean to play with them. With one of Sean's free hands he reached up and started to pinch one of them at a time. He then moved is mouth up to biting and licking each of them, while I don't think Jayce was all that turned on by a guy doing it. He however was turned on by the act of what was happening. Sean went back to giving the blow job, keeping a steady pace of the up and down rhythm. Right away, Jayce's face changed and he was in heaven, he was moaning, smiling, and getting into it. Then, that's when I brought on the twist.
With Jayce in a great mood after that, it was his turn to return the oral to Sean, and of course he wasn't too excited for that. Taking the dick in his hand he prepared to lower his open mouth down to it. However, about half way down he stopped at just the thought, but he was able to give it another try. He started slow, and Sean tried to both watch the porn and what Jayce was doing. As Jayce was able to get Sean's dick hard it was much easier for him to suck, and that's when Sean started the dirty talking. Sean would moan, and then also say little things to Jayce to let him know that he was enjoying the blow job. After a while I knew that Jayce had enough so I had the two of them sit side by side and give each other a hand job. The one that seemed to almost shoot his load was Sean, because Jayce was jerking him off really fast. However, I didn't want Sean to get off just yet, so I had them switch. Sean got a handful of lube and applied it to Jayce's dick. He started to pump his hand up and down at a steady rate, slowly building up speed and pressure. The more that Sean seemed to make the hand job intense the more that Jayce seemed to slip into having an orgasm. His body tensed up, bright red areas showed on his skin, and his breathing changed. He gave a warning that he was about to cum, and when he came the hot cum landed on his stomach. Sean squeezed all the cum out before letting go of the cock. He sat up and started to jerk himself off now, and as he was busy stroking it did not take him long to reach a climax. Giving me a warning he shot his load on his stomach and it actually made a trail down to his dick. Plus, got all over his hand as well, and after that both guys were tired, and sticky from the cum. I told them great job, and I my plan was to see if Jayce would come back to top in an anal scene here soon. Possibly with Sean since he needed the money and has done a good job in shoots so far. I told the guys to go clean up and they could collect their pay.