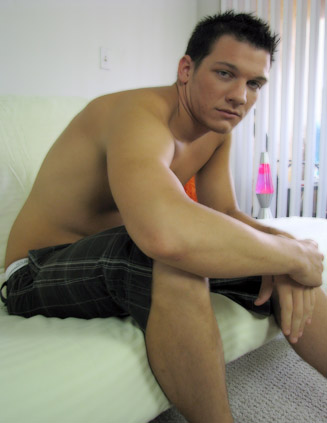 I was able to get another one of our traveling models to come into the studio to do a solo shoot. His name is Jayce and he normally goes around to all the bars and does events for Broke Straight Boys and makes money walking around talking to people at the bar; however, after one of the events, he asked if there was any way he could make some extra money to pay some bills. We setup a time for him to come to the studio and talk to me later that week. The day of our meeting Jayce arrived on time and I told him to just take a seat on the couch. Turning my camera on, it was just the two of us, and we just started having casual conversation. Normally, Jayce dances his way around the bar, and strips down to his underwear. Jayce is 22, straight, and has a girlfriend who has no idea what he does for a living. He explained that they haven't been going out that long, and he thinks she might get scared off if she finds out that he's working in gay bars in just his underwear.

We talked about if guys in the bars ever proposition him with money to go back to their place. Jayce said that it happens all the time, but he turns them down because even though the money sounds good, it's just not for him. I had Jayce stand for me. He said that he is 6'1" and 160 lbs. Taking off his shirt, he revealed his smooth, tone chest and his very well manicured happy-trail. I didn't see any tattoos. I brought up the fact that I saw guys putting dollar bills in his underwear last night at the event, and he said that is pretty common. When it comes to Jayce being up on stage doing his little show, he said that he doesn't get nervous and that he is comfortable doing it. Showing me the underwear, Jayce had a pair of white boxer-briefs. I told him that he could drop his pants to finish showing me what he looked like. Asking about his dick size, he said that he has been blessed with an 8-inch cock (and a great pair of blue eyes).

I made Jayce spin around to show his ass to the camera, and so he peeled his underwear down just so that we could get a peek of what he was working with. His ass looked like each cheek was a good handful, and you just wanted to slap his ass to watch it bounce. Turning back around to face the camera he took a seat on the couch and I handed him a bottle of lube that he could use to jerk off with. I told Jayce to get comfortable and to do his thing but to give me a warning before shooting his load. Taking off his underwear, right away I saw that he shaves all of his pubic hair. With a handful of lube he started to stroke his dick to the porn that was playing in the background. His body was very hot. He jerked himself off on the couch naked for the camera to see. He was very quiet and in his own little world while he stroked his cock. As his dick got harder, it was very noticeable that he had a very thick cock at the base and just wasn't fully hard yet.

Stroking his dick in a forward motion towards the camera he just kept the same pace as he worked on getting aroused. As time went by his body started to slide down on the back of the couch and then he laid down on the couch to be as comfortable as possible. Jayce's breathing picked up and his stroking speed increased. He started lifting his hips up off the couch and he shot his load just below his belly button. I asked Jayce if he wanted to come back to do some more work with us, and he said he would be interested. The only problem I saw was what I could put him in. He said that he was open to whatever work I had for him. That was a great sign, so I will see when we can get him back in the studio.