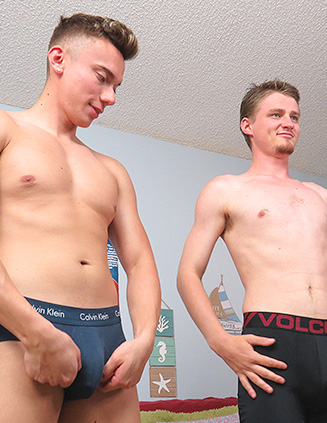 JJ takes in the sight of Carter's hard cock and can hardly contain his excitement. He starts to stroke it gently while they continue to kiss passionately. As Carter removes his white shorts to reveal his hardened erection, JJ's mouth latches onto the stiff rod like a magnet. Completely nude, JJ begins slobbering and sucking on Carter's dick with passionate intensity, eliciting a loud moan from Carter as he enjoys the sensation. Next it is JJ's turn to get a blow job from Carter. He takes charge by working JJ's cock with his mouth and throat, gagging and deep throating the entire shaft before switching to a sixty-nine position. As they trade blow jobs, both guys get to suck on each other's hard dicks during this dynamic pose. The sounds of slurping and sucking filling the room.
More action starts when JJ performs some intense rimming on Carter's tight anal opening. He spits a generous amount of saliva onto Carter's anus to make it easier for him to enter. As things heat up, the guys decide to trade rim jobs. JJ turns around to present his own ass to Carter who eagerly takes advantage of the opportunity by tongue punching the hairy hole. Both holes are now wet, saturated, and ready for penetration. As JJ stands at the edge of the bed, he sticks his hard cock inside Carter's tight pink hole, penetrating him deeply. With each thrust, JJ's balls slap against the rear. Carter's face is down and his ass is up taking in all the sensations. Soon it is time to flip flop and JJ gets on his back ready to bottom. Carter then tops JJ's wet hairy straight boy hole, stretching it with each movement of his cock.
Carter relentlessly pounds away at JJ's tightly clenched asshole. The room is filled with the sound of their moans and groans mixed together to form a symphony of erotic pleasure. Carter's arms and back are visibly tense as he thrust his massive cock deep inside JJ's tight anal cavity. While Carter continues to pound away at JJ's ass, he feels his own orgasm building up inside him. Carter's breathing becomes more rapid and shallow as he feels himself approaching climax. Finally Carter reaches his peak and unloads a thick stream of translucent cum into JJ's crotch and pubes. Next JJ launches his thick sticky white cum load high into the air like a fountain. After both guys had finished shooting their loads, they lay there, exhausted but content after such an intense fuck session.