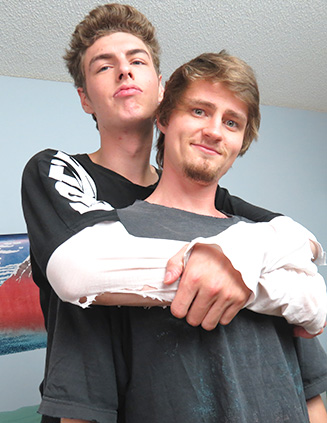 Ian and JJ start start kissing passionately, then with encouragement from JJ, Ian removes his shirt revealing his toned physique. The two men then proceed to explore each other's bodies, running their hands over every inch of skin. As they become more and more turned on, they start to fondle each other's hardening cocks through their shorts. Ian slowly removes his black shorts, exposing his perfectly sculpted body and white Hanes underwear. JJ eagerly watches as Ian gets up on his knees, presenting his massive erection for JJ to take into his mouth. With a seductive smile, JJ wraps his lips around Ian's cock, taking in every inch of him. Ian moans in pleasure as JJ expertly sucks and flicks his tongue against Ian's sensitive skin. JJ eagerly takes Ian's hard cock into his mouth, hungrily gagging and slobbering all over it. Not one to be outdone, Ian then takes control of the situation by reciprocating oral sex with JJ, sucking on his thick, penis like a pro.
JJ teasingly remarks that he can't get aroused by Ian's oral skills. However, as soon as Ian takes JJ's dick into his mouth and starts sucking on it, JJ's initial skepticism quickly fades away. Ian's skilled blowjob techniques are so effective that they manage to bring JJ to the brink of orgasm within a matter of minutes. With each deep throat action, Ian's hungry mouth works its magic on JJ's stiff rod, causing him to moan in pleasure and ecstasy. As Ian bends over to reveal his tight pink anal opening, JJ can hardly contain his excitement at the prospect of exploring this new territory. With eager hands, he reaches out to gently caress Ian's supple cheeks before slowly lowering his face towards the waiting entrance. The smell of musky male arousal fills his nostrils as he leans in closer, teasingly brushing his lips against the delicate skin surrounding the anus.
When JJ continues to rim Ian's hole, he begins to feel a growing sense of anticipation building within him. His fingers are now probing deeper into the moist, warm folds of flesh that surround the tightly clenched anal ring. As he feels Ian begin to relax and surrender to his touch, JJ knows that it is time for him to take things to the next level. JJ asks Ian if he's ready for a cock in his ass. Then he slides his rigid dick into Ian's tight boy hole. With each thrust, Ian feels his body being stretched to its limits, yet despite the initial discomfort, he cannot deny the incredible pleasure coursing through his veins. They change positions and JJ vigorously fucks Ian on his back. After a few moments of pounding ass JJ unleashes a sticky white cum load onto Ian's hole. He then shoves his dick back inside to breed the hole, coating Ian's insides with his man fluids. Next it is Ian's turn to cum. He jerks his big dick until he squirts cum all over JJ's face. Both guys are exhausted and the scene comes to an end.