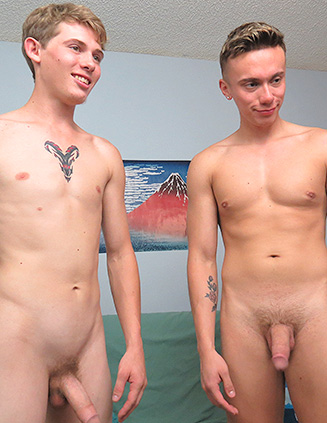 The scene starts off with John and Carter making out passionately. These studs are feeling each other up and running their hands all over each other's bodies. Their tongues are dancing in one another's mouths as they deepen the kiss. John removes his silver Hanes to expose his large, hard erection. Carter, seeing John's impressive dick, can't resist taking it into his mouth. As he sucks on his stiff rod, John moans loudly with pleasure, enjoying the sensation of Carter's warm lips and tongue teasing his cock. Soon after removing his navy Calvin Kliens, Carter proceeds to take out his hard, thick dick. Meanwhile, John is already eagerly waiting for him. As soon as he sees that Carter has gotten fully erect, John immediately drops down and takes the head of Carter's cock into his mouth. He then begins sucking on it while also using his hands to stroke its shaft and testicles. All the while, Carter moans loudly in pleasure as he feels John's warm tongue moving up and down his lengthy, rigid member.
After a while of teasing and foreplay, John bends over to give Carter access to his tight little hole. Carter eagerly takes advantage of this opportunity by leaning in close and using his tongue to lick and tease John's puckered asshole. As he continues to rim John's ass with his tongue, Carter can feel how wet and ready John's tiny pink hole is becoming. As Carter continues to work on John's butthole with his tongue, he slowly begins to push his hard dick into the tight little hole. At first, it feels like there's no way that Carter's thick cock could possibly fit inside such a small, tight little asshole.
But after some careful maneuvering and gentle persuasion, Carter eventually manages to slide all of his thick meat inside of John's ass. Carter is taking full advantage of John, by stretching him wide open with each thrust. As he pounds away at John's butt, he also spanks him and calls him a good boy. As the fucking intensifies, so does the pleasure for both parties involved. Eventually, the position changes to John on his back while being railed by Carter from the front. This new position allows for even deeper penetration, making John feel incredibly filled up inside. With each powerful thrust, John can feel himself getting closer to climaxing. Finally, after what seems like an eternity of intense anal sex, John shoots sticky white cum all over himself, marking him as Carter's conquered Bottom. After this Carter pulls out and gushes his load all over John's ass.