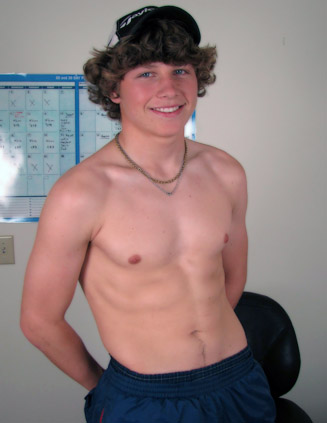 Jordan has been in a bunch of shoots for us on broke straight boys, but now I am going to take you back to the first time he set foot in our office. He came in for an interview appointment, and when he arrived he had to fill out all of our standard paperwork all the models go through. I took Jordan back into my office and turned on my camera to start getting him used to being in front of a camera. Jordan is from New Jersey, but was down in South Florida going to school working on getting a business degree. He shared that he hopes to one day open his own restaurant, but until then he has to work and finish school. Looking over the app some more, he mentioned that he's straight, but said a little curious. When I had him tell me more of what he meant, he used an example of him walking down the beach he would admire guys and their bodies. As far as working out goes, Jordan said that he likes to go running every morning. I explained to Jordan that we do the shoots at our studio not too far away from the office.

We got into what kind of girls Jordan likes and he seemed to bring up MILFs, and his biggest turn on was their well developed boobs. Since he has been going to school down here he said that he likes the women. Jordan recently got fired from his job and hasn't been able to find other work, so I told him how much he could make per scene and how we would start him out. He was excited to hear about the money, because he needed to come up with rent money or he was going to get kicked out. I asked Jordan to stand for me and I had him start by taking off his shirt. As he was peeling off his wife-beater his nice 6-pack abs showed for the first time. He showed them off to me, and then pointed out his biceps as well. Finishing stripping out of the rest of his clothes, it made me interested in seeing how big his dick was going to be. Right at first glance, his dick was uncut, hung, and he was ready to start getting it hard. I put on some straight porn for Jordan to watch and flipped the monitor around for him to see.

I told him that I was going to record him so that it was kind of a little dress rehearsal for him to go through. Jordan took a seat in the chair and started focusing on the porn in front of him. He played with his dick jerking, rubbing, lightly touching, and beating his it. With his free hand he would rub his chest and stomach for some body contact. Jordan's dick was slow at getting hard, but that was a turn on about him. This young, shaggy hair, nice abs, jock boy was pumping his dick to try and get a job in front of the camera. He was moaning and lightly talking dirty to the camera. When his cock was fully hard he was getting louder and jerking it all over the place. It was only a matter of time before he was going to shoot his load. He started opening and closing his legs and breathing really hard. Letting out a warning that he was about to cum, he shot a load with most of it dribbling down onto his upper thigh. Afterward he said that getting off felt great, and when I told him that he had a job he was excited. I handed him a towel, and told him that I would put him down on the schedule for next week. Plus, I gave him $200 to get him started until his next scene.