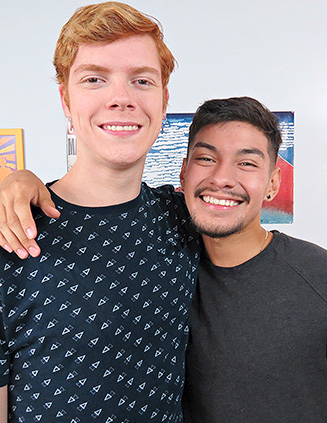 When the boys wake up and realize their alarm didn't go off, Gian looks panicked. He's concerned that they aren't going to make their event in time, but Connor is very relaxed. He had his mind on Gian anyway, and tries to relax him by sucking his dick. Immediately Gian's face goes from worried to aroused as Connor puts his dick in his mouth. Gian is loving it, and pulls Connor's head deeper, skullfucking him and getting rough. He decides to give Connor the same treatment and leans forward to suck him off. Surprised by Connor's large dick, Gian takes it all the way in his mouth, slow and deep, which leaves him in tears.
"Why don't you come sit on my dick?" Connor asks. Gian is hesitant, but straddles over Connor and lowers himself slowly onto his huge cock. Gian grunts at first, getting used to the size, but grinds faster as he settles in. Connor lies back and watches Gian grind him faster, then puts him on his side and continues pounding him. "Aaah, you're fuckin deep in me" Gian says as he grunts some more. Connor puts all nine inches deep into Gian, pumping him faster.
As they switch to missionary, Gian's hole tightens around Connor's cock, getting Connor really close. A couple more thrusts sends Connor over the edge, and he shoots his load all over Gian's abs. Feeling Connor's cum gets Gian to bust on himself too, leaving him covered in cum and satisfaction.