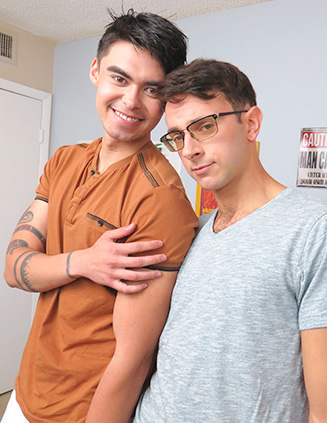 Izzy and Elliot and all cuddled up in the bed, when Elliot wakes up and immediately jumps on him. The chemistry is already high between these two, and they expand upon it by petting each other in passionate foreplay. Izzy wants to make Elliot feel good first, so he takes off Elliot's shorts and gets to work by sucking his cock. Elliot's eyes roll back, and Izzy picks up on it. "Is that how you like being sucked?" he says, to which Elliot nods in a breathless response.
Elliot returns the favor and deepthroats Izzy. Izzy decides to get more aggressive, putting Elliot's arm behind him and forcing his hard cock deeper in Elliot's mouth. He flips Elliot on all fours and spanks his ass while he prepares it to be fucked. Elliot submits to his dominance and lets him have control. As soon as Izzy gets his dick inside, he pounds Elliot hard from behind. "You like that dick?" Izzy asks, while he grabs Elliot's neck.
The stud can't get enough of Elliot, and puts him on his back to continue fucking him deep and hard. Elliot's face is in absolute pleasure as he tries not to cum first. He holds it just in time for Izzy to pull out and shoot his load all over Elliot's chest, which gets Elliot to cum on himself. Izzy licks part of Elliot's cum and swaps it with him before they kiss.