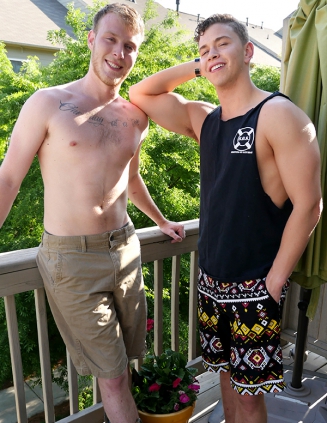 Benjamin Dover shows up to the shoot today in some pretty interesting attire, but let's be honest, the clothes don't really matter here since they don't stay on very long anyway! When we release these two sexy boys onto each other they make out, kissing hard while they feel each other up through their shorts and when Benjamin stands up and pulls his pants down Tanner Valentino is all over that juicy cock!
Tanner deepthroats Benjamin's dick a few times then gives his mouth a break and uses his hands before lying back on the bed and letting Benjamin give him head! Benjamin runs his mouth all over Tanner's thick prick, getting it hard before climbing onto the bed with him and shoving his cock into Tanner's ass! Tanner takes that dick like a man, spreading his legs wider apart to let Benjamin deeper into his ass while Tanner jerks his own cock while he gets pounded by that bareback prick!
They flip and Benjamin bottoms next, but his tight ass is a little more sensitive and he begs Tanner to take it slower as he warms up to that cock in his hole! They try a few other positions as Tanner tops Benjamin, pounding him hard and raw until Tanner can't take anymore of that amazingly tight ass and he cums all over! He sucks Benjamin off, using his mouth to make him cum and Benjamin doesn't disappoint, shooting a huge load onto himself and finishing off this impressive scene with a hot cumshot!