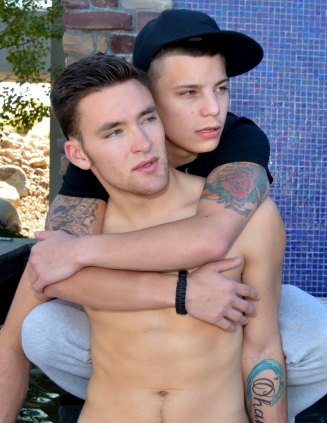 Ian Dempsey and Tyler White star in this sexy scene, as the boys kick back and watch a video together they get a little horny and decide to use each other to take care of that! Ian starts rubbing his own cock until he can't hold back anymore and sucks on Tyler's sweet meat, getting him hard before leaning his head off the bed in the perfect position to 69!
Tyler blows Ian while Ian gives Tyler head, getting a faceful of balls as Tyler facefucks him, and once they're both hard and wet , Tyler bends Ian over and slides his throbbing prick inside of Ian. Ian takes that big dick without complaint, letting Tyler fuck him hard from behind as he bottoms for him in a few fun positions. Tyler fills that tight little ass up with his bareback cock while Ian plays with himself, jerking his dick hard while Tyler pounds him raw, fucking that ass until it's sore!
When they're both about to cum, Tyler pulls out and strokes his dick until he shoots his load onto Ian's asshole and then shoves that cum right inside as he enters him again. All that jizz and bareback ass-pounding makes Ian bust a nut all over himself!