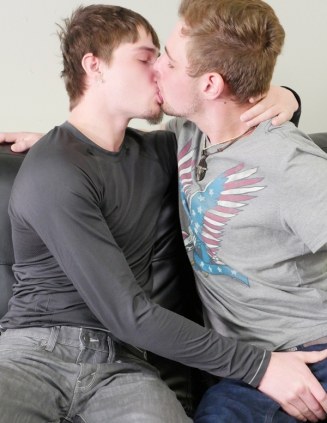 Our newbie John Henry is in for some fun today as he bottoms for the first time, but hopefully his partner Cage Kafig will go easy on him! They make out a little before they start to undress and suck cock, and Cage gets a taste of John's dick first as he goes down on him and sucks until John's cock is hard.
Then John returns the favor and licks Cage's shaft, jerking his cock as he sucks it and making Cage's big dick stand at attention. Next thing he knows, John is bent over with Cage's prick slowly sliding into his asshole, and Cage takes it slow to give him time to get used to that unique feeling. John grunts as Cage's bareback dick fills his ass up, making him hurt as Cage picks up the pace and pounds him harder and faster, taking advantage of this first-timers super tight hole!
They move it to the bed where Cage keeps up the ass-pounding, breaking John in hard and fucking him raw, then trying a couple other positions until John cums hard across Cage's chest, and Cage cums hard right onto John's sore asshole!