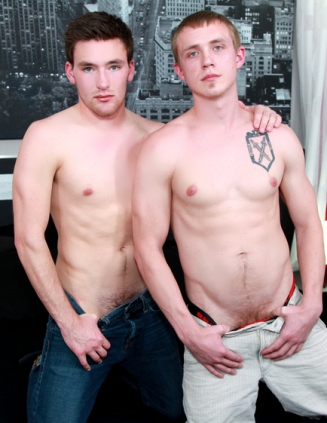 It's Jake Tipton's first time giving head that we know of! Of course he's a little nervous, afraid he'll be bad at it, but he's got Ian Dempsey to show him how it's done! Jake's never even kissed a guy, so of course he's encouraged to give that a try and exchanges a few kisses with Ian before they finish stripping and he climbs up on the bed.
Jake's not hard at all (as would be expected) but once Ian's mouth wraps around his cock and he deepthroats that dick, there's no way it wouldn't get hard! Ian pulls Jake's thick shaft in and out of his mouth, using his hand a little to really get him going as he strokes that big prick. When Jake's close to cumming, he grabs his cock and shoots his load right into Ian's mouth, his hot cum dripping down his chin as Jake finishes.
They both know what's next and Ian sits down in the chair while Jake kneels in front of him, cautiously taking Ian's meat into his mouth and moving his head up and down as he pleasures him. Jake focuses on Ian's sensitive tip until Ian's about ready to cum, then moves down to suck on his balls while Ian busts a nut. Ian says Jake's cock-sucking skills were pretty good…so we'll see how good he is at taking it up the ass!