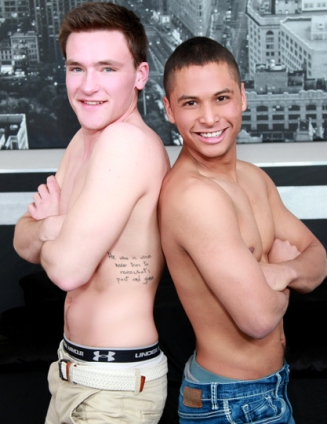 Jaden and Ian have been talking and getting to know one another, so when it comes time for them to fuck they don't seem too shy! There's a lot of kissing with these two and they seem to enjoy taking their time with each other as Jaden gets Ian out of his clothes and gets his dick into his mouth, licking that thick shaft and playing with his balls as Ian gets in a better position to fuck Jaden's face!
Ian gives Jaden head, taking his balls in his hot mouth and deepthroating that cock as Jaden shoves it down his throat. Once Ian's got Jaden's prick ready for fucking, he climbs on top and rides Jaden's throbbing dick, bouncing up and down as his tight ass stretches to fit that cock.
But as much as Jaden spreads Ian ass open, he just can't get deep enough so he bends Ian over and fucks him hard that way, getting in nice and deep and pounding so hard and fast…he just can't get enough of Ian's tight little hole! One last change in position has these two boys cumming all over Ian's stomach and Jaden reflects on how it felt to claim his first ass!