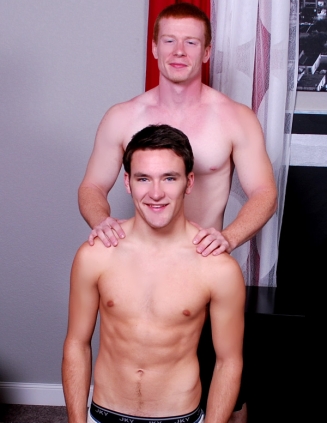 Don't worry. You don't need glasses! That is Spencer "Red Rocket" Todd kissing Ian Dempsey. As the studs smooch, they take off their shirts and pants. Spencer continues to
be a muscle stud with red freckles. The boys stand in their underwear, pulling johnsons and sucking face.
"Get on your knees and suck my dick," Spencer commands.
He hasn't lost his straight boy edge, huh? :-)
The boys slip out of their underwear, their dicks nice and plump. Ian opens up and swallows RR. Looks up in the stud's face. Man! Isn't Ian a sexy dude?!
He gets a taste of ginger pubes, as Spencer guides him to his prize
"Oh, yeah," Spencer moans.
He starts to gently face fuck Ian. Nothing brutal. Doesn't gag him with meat. Ian slobbers all over the shaft, getting it slick.
"You want me to suck your dick," Spencer asks.
Such a silly question! Ian gets on the bed and Spencer opens up. He might not have been in our studio for awhile, but Spencer remembers a few oral tricks.
"Oh, God yes," Ian whispers as he wipes an effort tear from his face. Sucking the Red Rocket takes some work. :-)
Spencer goes up and down on Ian's dong, choking on it. His mouth overflows with spit. Keep it juicy, Spencer! Keep it juicy. His tongue swirls around Ian's second head,
making his scene partner throw his head back.
There's a brief kiss before Spencer tells Ian to get on his knees. Spencer's pole is ready to play. He puts some lube on and once that big thing is in, Spencer goes full stroke.
He
makes Ian grab the side of the bed as he pile drives that ass.
"Oh, fuck," Ian whispers.
The pounding makes Ian's butt cheeks wiggle from the impact. Spencer's eyes are closed, so he's not paying too much attention to his partner's grunts. Just making sure that
Ian remembers who busted that booty a week from now.
"Get on your back," Spencer demands.
Ian does so, and Ian gets a chance to go deeper than before. He holds Ian by the thigh and calf as he stuffs that man hole.
"Oh, fuck me," Ian begs.
Spencer begins to mumble "oh, yeah" on each down stroke.
"You like that don't you," Spencer asks.
Can't fuck like this without someone blowing a load. Ian is first. His juice lands all over his abs. Spencer takes a few more jabs before pulling out. He starts stroking his meat
over Ian's open mouth. When he nuts, the first spurt hits Ian's tongue. The rest coats Ian's entire face, from his hair, cheeks, and chin.
"Good job," Spencer says.
Welcum back Spencer!