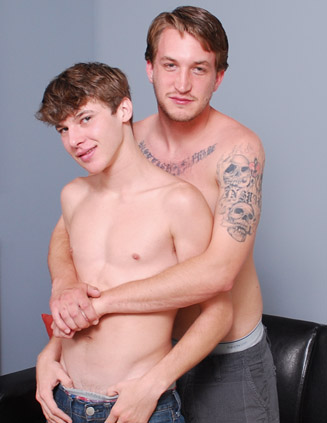 The BSB stars have aligned perfectly this week, putting Colin and Kodi in the studio at the same time. Our message board has been in overdrive for this coupling. The models understand much is expected from today's performances.
It's going to be quite the show," Colin announces, exuding a sexiness we all have to come to lust over.
"Oh, yeah. Definitely, Kodi nods in agreement.
The cameraman asks Kodi what will happen today, and we hear a brief outline of the upcoming festivities.
"Today? I'm going to suck his cock. I'm getting fucked in the ass and I'm going to return the favor,"Kodi explains.
"I think it's going to be awesome. I'm not excited about what's going to happen, but I think the outcome is going to be pretty awesome for the fans, " Colin adds.
With the set up understood by all, pants are taken off, and they show us their backsides. Some butt slapping is done, and Kodi's ass jiggles after a few whacks.
After they stroke their dicks, Kodi leans over and takes all of Colin's candy cane. Our newly coiffed model only knows one way to make a dick happy, and that's by deep throating. Colin sighs and puts his hand on the back of Kodi's head, but there's no need to push Kodi down. Kodi is bobbing on that big ol' banana like it's a personal friend.
Colin grabs Kodi's head and face fucks him. Kodi takes it with gusto, moaning the whole way though, keeping his mouth wide open. All future BSB models should study Kodi on how a blow job works.
Time for Colin to return the favor, and Kodi encourages his partner as he attempts deep throat.
"Suck that fucking cock," Kodi sighs.
Colin can't reach the pubes, but comes close. Kodi is enjoying the blow job, his moans filling the studio.
"Sounds like someone is enjoying themselves," Colin says noticing Kodi'scries of contentment.
"Oh, definitely,"Kodi chuckles back.
We then get to a special point in the vid. Some advice: turn off the phone and lock the door. You will want no interruptions. The cameraman wonders if Colin warns to try something new.
"Depends what new is," Colin responds with an arched eyebrow
"Well, Kodi has a really nice pink asshole and it deserves some tongue action."
Colin nervously laughs, not sure he wants to. Kodi grins because he knows the beauty of his backside.
Kodi assumes the position, his pink asshole winking at the camera. Colin walks around and puts his hand on one of Kodi's butt cheeks. Our rookie rimmergives the cameraman a look, as if he can't believe what's he been asked to do. However, his face heads toward that captivating hole and gives it a good licking.
Kodi's murmurs of joy are louder when his caboose gets a well deserved rimming.
"How does that feel," Colin asks.
"It feels fucking great," Kodi responds.
Colin makes a good meal out of that butt hole, slicking it up with spit.
Dessert always should follow a fulfilling dinner. Colin lines up and gives Kodi a good stroking. Kodi's face contorts to the shock of the penile intruder, but he knows once the initial pain subsides he's going to be in heaven. He clenches his teeth and takes his riding like a classic thoroughbred.
Colin grabs Kodi's hair, treating him like a bottom is meant to be -- used with no mercy. Kodi looks so sultry on his hands and knees. Cute, helpless, and taking everything.
They flip and flop, Colin putting his legs in the air. Kodi's kielbasa finds a warm home in Colin's ass, fucking all the way to the balls. He goes in and out, oblivious to the damage his long dick might do. Colin knows fair is fair. He gladly made Kodi bite the metaphorical pillow. Now it's his turn.
Kodi must be doing something right because Colin erupts all over himself, covering the bottom part of his chest. Kodi pulls out and cums all over Colin's stomach. The blast is copious, enough to quench any man juice thirst.
After a high-five, both boys clean up. Have you done the same?