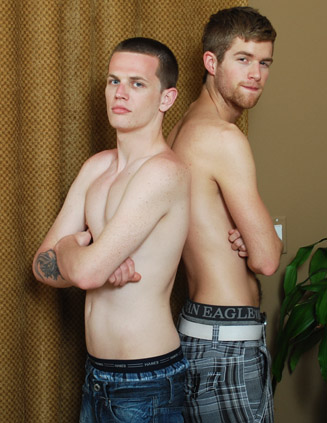 Blake is back in the studio along with Anthony and today, they are going to be indulging in some ass action. Anthony is taking one
for the team which means Blake will be topping. While Anthony says he isn't really into getting fucked and that it's the money he
likes, there was no denying that there was a sly twinkle in his eye as he said he hadn't been practicing at home. As the two boys
were raring to get into it, they stood up and stripped off their t-shirts, both revealing lean bodies. I told Anthony that Blake was
prepared to fuck him without mercy but Anthony had the important job of scoring just how well Blake did. The jeans came off next,
leaving the boys in their boxers. Only a second later, the boxers joined the heap of clothes on the floor.

Anthony and Blake climbed up onto the bed and settled down next to each other. Anthony told Blake that he should suck dick first
and with a slight grin on his face, Blake leaned over and went to work,all the while, Anthony reached around and started to jerk on
Blake's cock. With Blake's oral skills, it didn't take long for Anthony to get rock hard even as Anthony was sliding his hand up and
down Blake's stiffening shaft. Every now and again, Blake would break off from sucking cock in order to give the hard cock a few
good pumps before swallowing it back down again, much to Anthony's appreciation. There was no doubt that Anthony was loving
the feel of the hot, wet mouth on his cock while Blake was certainly showing off an impressive range of oral skills as he licked up
and down the long cock. However, all too soon for Anthony, it was his turn to show Blake what he could do with seven inches. Blake
sat back, and with a huge smile on his face, relaxed as Anthony immediately swallowed the whole length right down his throat. With
a well practiced style, Anthony showed off a little as he deep throated Blake's thick cock, making Blake gasp in excitement. Despite
Anthony choking a little as the head of the dick brushed the back of his throat, it was obvious that Blake was loving the blowjob
even as he leisurely wanked Anthony's cock. Once Blake's dick was thoroughly wet, it was time for Blake to take command of
Anthony's ass.

Blake and Anthony hurriedly got themselves prepared, obviously eager to get into the main event of the day. Once both boys were
slicked up, Anthony leaned forward and braced himself on the mattress while Blake stood behind him, slowly working his rock hard
cock into Anthony's tight ass. Blake was able to set a steady pace right away, Anthony panting heavily as Blake thrust in and out of
his hole. Gripping the back of Anthony's neck in a tight grasp, Blake sped up a little, making the bed creak and groan as if it was
going to collapse. Anthony and Blake were getting right into it, both of them enjoying the hot fuck. I suggested that Blake get
Anthony to lay down and a second later, Blake takes control, shoving Anthony down onto the bed before clambering over and
immediately going back to work. By now, both boys were sweating from all their strenuous activity but it was clear they had stamina
to spare. Blake's hips pistoned back and forth like a locomotive, all the while, Anthony reached back, desperately trying to draw
Blake even deeper into him. "Do you like that?" demanded Blake as he pounded the tight ass. "Oh yeah!" gasped Anthony in reply,
his hand still firmly grasping Blake's ass cheek.

Suddenly, Blake slowed right down and his cock sliding in and in deep, leisurely thrusts that were designed to make Anthony beg for
more. A couple of minutes later, when Anthony just couldn't take the slow pace anymore, the boys switched positions again.
Anthony flipped over onto his back, lubing up his well used ass even as Blake aggressively dragged him onto his cock. The sweat
was dripping down Blake's chest as he grabbed hold of Anthony's cock and started wanking him off. All the while, Anthony kept up
a litany of "Oh fuck... fuck!" as he was ridden hard. As Anthony was so close to the edge of the bed, there was a definite danger of
Blake's dominate style of fucking actually pushing them both off the bed. On the cusp of cumming, Anthony wrested control of his
cock again, his hand sliding up and down the thick shaft at a furious rate, all the while, Blake kept fucking him without mercy. The
moment that Blake pulled his cock out, Anthony shot his load over his stomach and lower chest. Now it was Blake's turn to show off
his cum shot. Blake jerked himself off as Anthony tried to gather his breathe and with one... two... three tugs on his cock, Blake
sprayed cum over Anthony's dick, pubes and stomach.