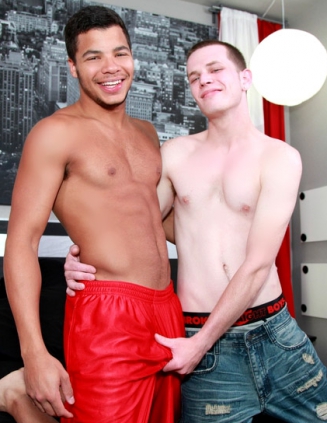 Anthony Hunt is back, and he's broke! So that means we're here to fill his pockets as he gets his ass filled with cock, and Kaden is ready to be the one to do just that. That horny stud dives right in, kissing Anthony hard before getting the boxers off and shoving that dick in his mouth. He chokes Anthony's meat with his hand and mouth, spitting onto that prick as he rubs it up and down.
Anthony's in for a bit of a kinky treat next as Kaden hands him the lube and gives him a footjob while he masturbates himself! These boys don't stop, it's right from the footjob to Anthony cock-sucking Kaden, licking the tip and gagging on that huge thick dick as he gets as much of it in his mouth as he can. Once Kaden's dick is up to it's full and very impressive potential, it goes right into Anthony's tight ass and he pounds him hard as Anthony struggles to let his ass stretch around Kaden's big prick.
Next Anthony bottoms doggy style and Kaden's definitely not gentle about sticking his cock in and fucking him raw, hard and deep despite Anthony's cries of pain. No angle or position seems to lessen Anthony's pain as he bottoms for Kaden and takes that massive dick while Kaden sucks on his toes and kisses his foot until they both stroke one out!