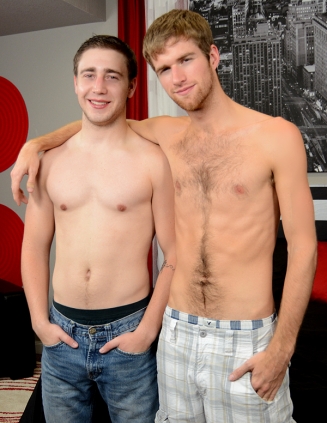 The killer "Bs", Blake Bennet and Brandon Beal, are seasoned pros. So is there really a need for
some introductory chitchat? :-) The two hold each other, and make out with lots of tongue. Shirts
are removed and the passionate kissing continues.

Blake hits those knees and pulls off Brandon's pants. He puts his mouth on that big sausage, and
Brandon starts to moan. After a few licks, Blake come back up. Licks Brandon's nipple, bites his
neck, and places more kisses on his mouth. As he does that, Blake pulls off his pants.

Blake returns to dick swallowing, making sure to keep it juicy. There's another round of kisses,
that Brandon returns with passion.

It's Brandon's turn to choke on meat. He gets on his knees and swallows everything Blake has.

"Suck my cock," Blake whispers.

Brandon's cheeks and lips are covered with spit and pre-cum, and he's never looked sexier. He
puts his tongue out and Blake plays with it. Blake pulls him up and places kisses on those spit
slicked lips.

Brandon gets on the bed, and Blake eats out that man hole. He gets it good and wet with his
mouth juice. Brandon's hairy buns look so sexy upturned, in the air, as he's getting rimmed. Blake
is such a lucky dude to have that butt as a meal.

Before getting fucked, Brandon turns around for more kissing, which Blake gladly returns. When
Blake breaks that ass ring, raw, Brandon immediately moans. It's balls deep from the start, with
Brandon's butt cheeks jiggling from the impact.

Brandon's moans get louder as the fucking turns more powerful.

"Oh, my God," he whimpers.

Blake makes Brandon do some of the work, with the bottom riding that pole. Brandon gets on his
back, and Blake reenters. The two kiss as Blake wrecks that hole the way it should be.

The pounding and kissing push Brandon to the point of no return. His man milk shoots out and
makes the top of his stomach wet with goo. Blake leans in for a kiss as he strokes himself. His cum
explodes all over Brandon's torso.

It all ends where we first started. Passionate lip locking.

So? How you feeling after watching this? LOL!