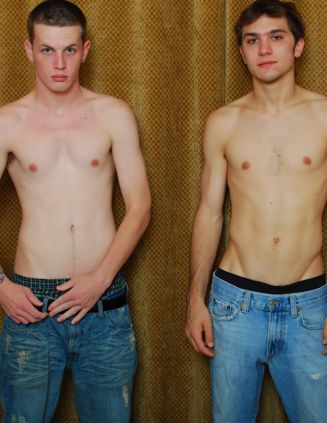 Two of the cutest boys on Broke Straight Boys are in bed together today; Rocco and Anthony. It was easy to see that the boys were eager to get the show on the road pretty much right away so I told them to go ahead. Rocco and Anthony quickly stripped off their clothes, throwing them on the floor beside them. Grabbing hold of their dicks, the two boys started to play with their cocks as they worked on getting hard. Rocco was first to get hard and as such, it was Anthony's duty to go down on him. Shifting closer to Anthony, Rocco had a sly grin on his face as Anthony leaned over and took the hard dick in his mouth. Anthony wasn't used to such a long dick but he bobbed up and down on the thick shaft and soon had Rocco panting for more. Little by little, Anthony tried to go all the way down but Rocco's cock proved to be just too big for him.

Every now and again, Rocco would thrust his hips up, face fucking Anthony for a brief second or two. As Anthony experimented a little with licking the hard shaft, Rocco hinted that he should swallow the cock down again by pressing gently on the back of Anthony's neck. Due to Anthony's enthusiasm, Rocco had to ask him to watch his teeth, Anthony apologising immediately before handling the thick dick again. Swapping things around, Rocco got up onto his knees while Anthony lay on his side, his mouth open wide as Rocco directed his dick back home again. This new position allowed for Rocco to do some more face fucking. Even though he choked a few times, Anthony was able to allow Rocco to build up a hard and fast pace as the dick slid in and out of his mouth. All the while, Anthony wanked himself off, getting harder by the minute. Rocco told Anthony to look up at him while he got face fucked, Rocco's dick sliding along the inside of Anthony's cheek as Anthony gazed up at Rocco.

Soon enough, it was time for the boys to get to the fucking so Anthony got down on all fours while Rocco stood behind him, slowly working his dick into Anthony's tight ass. Rocco was able to set a steady pace almost right away, even as he commented on how tight Anthony's ass felt. Leaning down further onto the bed, Anthony ensured he was able to feel every inch of Rocco's thick cock as Rocco thrust in and out of him. 'Do you like it rough?' asked Rocco, a cheeky grin on his face, Anthony replying that it hurt. However, every now and again, a hint of pleasure flashed across Anthony's face as Rocco fucked him like a pro. By now, both boys were panting hard and dripping with sweat from all their hard work. In a surprise move, Rocco picked up Anthony's ankles and lifted them up by a few inches before Anthony reached behind and pulled apart his ass cheeks so he could feel the full effect of Rocco's dick.

The boys shifted around again; Anthony on his back, knees bent back with Rocco sliding back in as he knelt between Anthony's legs. With the bed squeaking like mad, Rocco rode Anthony's ass hard. All the while, Anthony was moaning for more as he rolled his balls in his hand. Before long, Anthony's toes were curling in a true indication that he was loving every minute of his ultra hot fuck. Pulling his knees back to his chest, Anthony was feeling the full effect of the huge cock plowing his straight boy ass. After a few minutes, Anthony let his legs fall to the sides as he reached down and started pulling on his dick. As his ass was getting fucked into next week, Anthony came without a sound, cum spilling between his fingers and down his shaft. All of a sudden, Rocco pulled out and knelt on the bed. Jerking off at a furious pace, Rocco gestured to Anthony as he was about to cum. Anthony leaned forward, mouth open so that he could catch every drop of cum as Rocco shot his load.