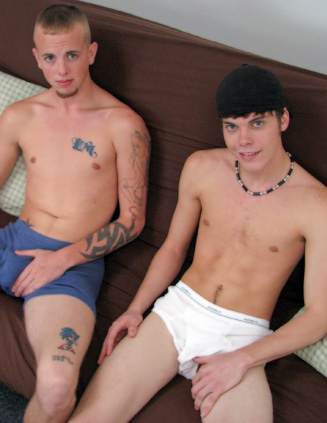 Mike R and his buddy Josh are back in the studio today to make some more money and put it towards a new ATV for Josh. However, this time, Josh is going to have to do something more than just jerk off for the camera. I told Josh that he was going to have to suck Mike's dick and Josh was a little shocked at the suggestion but Mike reminded him that he would be getting more than he had in their previous scene together, plus, Mike was going to give Josh some money as well. Josh thought about it for a minute before deciding that he could at least give it a go for $800; his $400 along with Mike's $400. Mike and Josh stripped off to their underwear, Josh being very careful with his injured foot as he still had stitches in the wound he got when he crashed his ATV.
With the straight porn playing, the boys worked on getting their dicks hard. Mike likes to watch other guys jerk off when at Broke Straight Boys and this time was no exception. In a half joking manner, Mike pushed Josh's head down towards his hard cock, clearly wanting Josh to start sucking his first ever cock. Taking off their underwear, the boys got settled, Mike leaning back into the futon while Josh bent over and with some hesitation, put Mike's dick in his mouth. His eyes closed, Josh concentrated on sliding the stiff cock in and out of his mouth in slow motions, only going a little faster after some prompting. So far though, he was doing pretty good for his first time sucking cock, Josh admitting that it wasn't as bad as he thought it would be. Josh even started experimenting a little; licking up and down the hard shaft and balls, twisting his head on different angles and pumping Mike's cock with his hand.
With a hand on the back of Josh's head, Mike got a little aggressive, pushing Josh down further on his cock. Josh was getting tired, not used to having a cock in his straight boy mouth so he started to jerk Mike off with hard, fast strokes. Only a minute later, Mike came, spraying himself with cum all over his stomach and chest, Josh teasing his sensitive cock head for a moment after he came. Now it was Josh's turn to have his dick in a hot, wet mouth, Mike leaning over and swallowing his cock. Josh just leant back and closed his eyes, enjoying the feeling of Mike blowing him, even though he did admit that it felt a bit strange to have a guy sucking on his dick. Mike worked overtime to get Josh hard but it obviously felt too strange for Josh so Mike sat back and wrapped a tight hand around Josh's cock, jerking him off in fast strokes as Josh watched the porn.
Josh's started panting harder, close to cumming as he thrust up into Mike's hand. Suddenly, Josh shot all over his chest and stomach, cum dribbling down his shaft and Mike's hand. Both boys did a great job, giving BSB one hell of a hot shoot and I know that they will be back very soon.