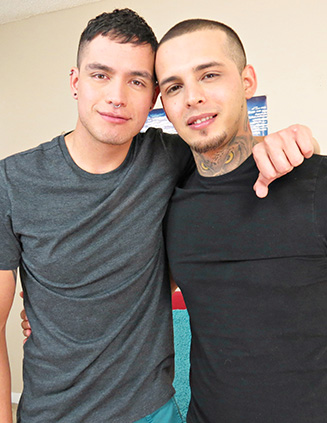 Well Nico thought that Bentley was thirsty, so he went to get a couple of beers. When he came back, Bentley was on his back ready to quench his thirst, but it wasn't a beer that he wanted, and Nico got excited when he realized this. "Is it okay if I put my cock in your mouth?" Nico asks, before the tattooed hunk puts his mouth all over Nico's uncut dick. They 69 for a bit before Bentley gets Nico upright on the couch and services him some more.
Looking at Nico's rock hard cock makes Bentley want to sit on it, which he does with pleasure. He moans as he rides Nico, before he gets on all fours and has Nico eat his ass. That excites Nico, who eases his cock inside Bentley and fucks him doggy style. Bentley bites the sheets as he's getting pounded, before getting flipped on his back and pounded again.
Nico stays on top of Bentley and thrusts his big dick in him faster, before pulling out and shooting a load all over Bentley, and on himself! It's not long before Bentley cums hard while his hole quivers from Nico giving it to him hard. Nico finishes like a gentleman, saying "thanks dude!" before leaving Bentley soaked in his cum.
Please don't forget to comment and rate the scene.