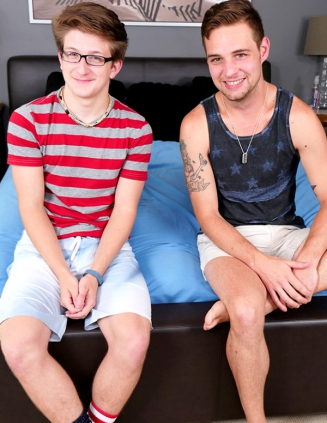 Oliver Saxon, one of our newbies, has never had a dick in his mouth before, so he's a little nervous for the new experience but John Henry is ready to walk him through it all. They start things off with some kisses, and while they make out they lose their clothes piece by piece until Oliver is naked on the bed and John's mouth is around his cock.
It's not long before Oliver's hard, watching John work his magic as he sucks that sweet dick and massages Oliver's shaft with his hand. When it's John's turn to receive oral, you can tell that Oliver is a little hesitant but John doesn't take pity on him as he pushes Oliver's head down on his dick. Once Oliver's got the cock-sucking down, John spreads his ass and lets Oliver slide his hard prick deep inside, going slow at first but once he feels that tight ass he can't help but fuck John harder!
They try a new position and John rides Oliver's throbbing dick, grinding his ass all over as Oliver sits back and enjoys the raw fuck. When John gets on his back and starts touching himself with Oliver's member deep in his ass it's not long before both guys are finishing with some hot cumshots!