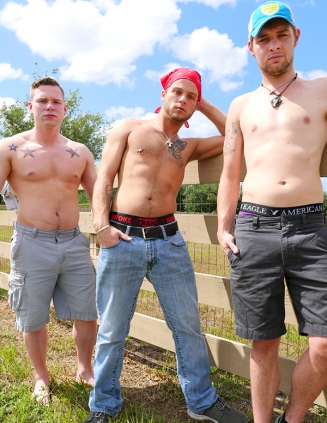 John Henry is the only guy in this scene that hasn't done a threeway before, so Zeno Kostas and Owen Michaels are about to show him what it's all about, on one condition…John has to bottom! When we unleash these guys on each other the clothes come off and we get some delicious mouth-on-skin action as they all make out and plant passionate kisses across John's torso and right down to his cock.
Owen and Zeno give John head together, each claiming a side of his cock and running their mouth up and down it, pausing at the end of each stroke to make out with each other. If that double header wasn't hot enough, these boys climb on the bed and form a triangle of cock-sucking action until they're all hard and it's time for some bareback ass pounding!
Zeno fills John up with his meat while Zeno gets fucked from behind by Owen, each guy thrusting hard into his bottom as they press together to get deeper. Next it's John bottoming for one of the boys while he sucks the other off and they take turns fucking him raw, making sure that ass will be sore tomorrow as they pound him! Zeno gives John a facial and Owen shoots a huge load right onto John's hole then fucks him with the cum, and after they've covered him in hot jizz it's his turn to finally stroke one out!