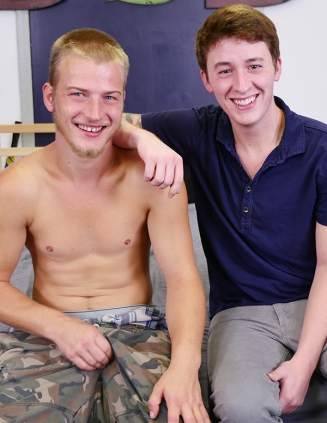 Jason Sterling and Danny Cannon waste no time in getting after each other's goods, and Danny gets Jason undressed while they make out, kissing his way down to Jason's cock and sucking on that hard wang. Jason watches as Danny massages his dick with his mouth and hand, and then gets Danny on the bed to give him oral next.
Danny rests his hand on Jason's head, helping his cock farther down Jason's throat as he gets sucked by his partner. When these guys have had their fill of oral, Jason bends Danny over and lubes up, prepping Danny's ass for his long, hard cock as he slowly shoves it inside of Danny. Jason holds Danny's hips for leverage as he fucks him raw, sticking his prick deep inside of Danny's sweet ass and making him moan with every thrust.
They move to the bed next, Danny face down and ass up while Jason enters him from behind and pounds him with his bareback meat, and when they switch it up again, Danny is on his back with his legs spread. Jason gets deep insidxe of Danny in this position and while he's getting his ass stretched, Danny strokes his own cock until he comes hard and then Jason pulls out of Danny's ass and covers his face in cum!