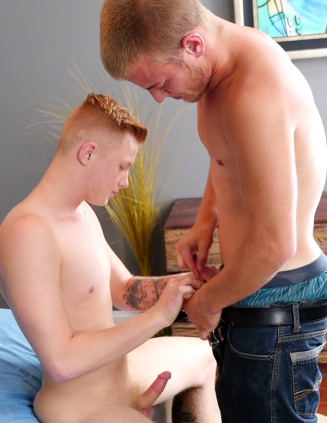 Jason Sterling wastes no time going down on Zach Covington, tearing his clothes off and going straight for that cock as Jason takes it in his mouth and sucks Zach until he's hard. Jason gets a blowjob next as Zach shoves that big dick in his mouth and does his best to deepthroat that thick cock, stroking it with his hand and tongue as Jason watches him from above.
All that oral got these guys hard and horny and Zach knows it's time for him to bend over as he climbs on the bed and puts his ass in the air and Jason enters him from behind. Jason penetrates Zach's ass nice and slow, but once he feels that tightness around his dick he fucks him hard and fast, pounding that sore hole while he licks Zach's toes and then pauses to finger him a little.
Jason buries his bareback cock back in Zach's ass and pounds him some more, trying another position as he fucks Zach hard, Jason's balls slapping against Zach's ass as he pounds him. The more Zach moans in pleasure, the deeper Jason rams his long shaft into him, going raw and hard until Jason can't take anymore of that tight ass and shoots his load all over Zach's back then leans forward to catch Zach's cum in his mouth!