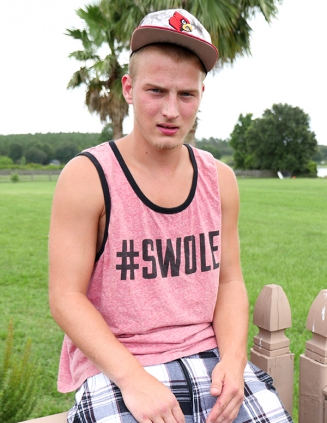 Jason Sterling is here from Louisville, Kentucky, and this outdoorsman passes his time hunting and fishing and enjoying sports. The money he earns here he will put towards raising his son and the rest he will spend on himself…but before he gets paid, we need to see some cock! Jason admits that he's very nervous, but it's not like he's never gotten himself off before, so we're confident that this blonde hottie will do just fine.
He takes his clothes off and shows us his slim but toned body, playing with his dick absentmindedly as he answers a few more questions before we set him loose to do his thing. He lies back on the couch and looks into the camera as he grabs his cock and starts to stroke it, running his hand up and down over his shaft as it gets harder and bigger.
As he jerks his prick, he grabs his balls and massages them and you can tell by the way his muscles clench that he's getting closer to cumming. He starts pulling on his dick harder and faster until he unleashes a huge load all over himself! What an impressive cumshot for a first-timer, we can't wait to welcome him back for more than just a solo scene!