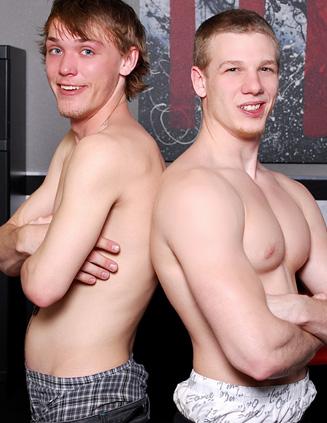 Duncan Tyler has brought his donkey dick back to the land of BSB. The laconic lad hasn't really needed our greenbacks because he has a gig. Like most workers, he enjoys the remuneration but not the actual job.

"A weekly paycheck is cool," Duncan says. "The daily work sucks."

There's some mystery to Duncan's work, but it does involve the dismantling of things.

"I get paid to break stuff," Duncan notes.

He should be use to breaking things, considering the meat that hangs between his legs. New Jersey stud Johnny Forza has seen Duncan's dick at full mast.

"It's a fucking horse cock," Johnny says.

Apparently he's worried about Duncan running into his girl.

"Jesus Christ. Just stay away," Johnny advises. "Just stay out of my state."

Duncan just laughs this off, as if he has a history of breaking up relationships :-) The two performers stand up, and there's an extended conversation about Duncan's lack of matching socks. They strip and get on the bed. Clay gives the script for today's vignette. Johnny will be fucking Duncan. Although there might come a time when the roles are reversed.

"I want to get paid twice because it's two dicks," Johnny demands.

That can probably be arranged, no? :-).

Duncan sucks pole first, spitting all over Johnny's member. It gets hard and Duncan treats it like a popsicle. Slurping and sucking. He gags occasionally, but it's been awhile since he's had sausage in his mouth. Cut him some slack. LOL!

Johnny leans back and enjoys the spectacle and sensation. Soon it's his turn to return the oral favor. He licks the thick shaft, but can barely work the head in his mouth. Duncan's monster is a giant. Are there any BSB models who can swallow it whole?

Johnny gets the dick as wet as possible. He alternates from licking to jerking it. But he soon wants tot tap Duncan's ass. Lube is placed where it should, and Johnny puts on a condom. Duncan gets on his hands and knees. Slowly Johnny works his tool in Duncan's hole. Once he's in, Johnny pumps away.

"Fuck," Duncan groans.

The boy is getting the same type of treatment he's probably given over the years. He puts his cheek on the bed, and holds on for the hole busting.

"Oh, god," Johnny moans.

Duncan's face turns red. He's tries to relax so he can handle the invasion. As for Johnny, he pumps away. Making sure each stroke is felt. Duncan gets on his back, and Johnny grabs the bottom boy's calves and spreads his legs apart. Each stroke is balls deep.

Duncan starts to jerk himself as he is pounded. Soon he forgets about his burning ass and pops a load that overflows his belly button.

Johnny pulls out and strokes his own nut. His nectar dots the black sheets and Duncan's' torso.

"Next time it's Duncan's turn," Clay says when the boys calm down.

"No way," Johnny insists.

What do you think? Should Duncan get a chance for revenge?