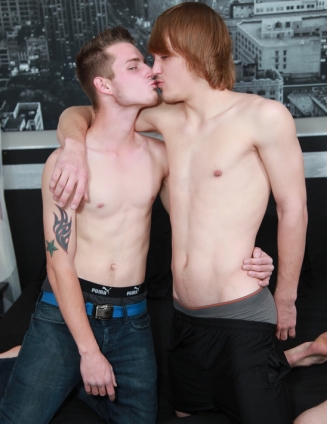 Ever since he's appeared on the BSB scene, Tristan Stiles has shown the skills of an expert pass around bottom. Oh, he's topped but when his legs are in the air it's like Tristan finds another gear. In today's update, he's paired with Duncan "donkey dick" Tyler. There's talk about Duncan's voice and his distinctive laugh. "I giggle when I'm nervous," Duncan explains to the cameraman. "It's the deepest giggle I've heard," the cameraman replies.
Duncan hasn't been doing much, except snow boarding. The cameraman thinks that's the reason why the deep voiced stud has so many scars. Some of them were caused by over excited folk. "I got bit by a drunk female," Duncan explains as he points to a scar on his thigh. The biter is his neighbor. "It's worse than living next to a pit bull," the cameraman jokes. As the lads take off their clothes, the cameraman promises Tristan doesn't go for biting people. When they're naked, the cameraman gives Duncan a command. "Down on your knees, son." Duncan giggles, hits his knees, and sucks on Tristan's tool.
A few swipes get Tristan all hot and bothered. As he slobbers all over that meat, Duncan gives his monster meat a few strokes. Duncan isn't an expert on pole technique, but he rarely pays attention to the gag reflex. Which makes him hotter than he already is. It's Tristan's turn to suck, and he can barely get that pink head in his mouth. He tries to deep throat salami and fails. However, Duncan has few complaints. Especially when the sexy boy looks up at him. It's fucking time. Tristan puts his palms on the chairs. Duncan has to work his meat in slow because his poor bottom is moaning and groaning from the start.
"Fuck, yeah," Duncan whispers. The strokes are long and slow. Tristan's face is twisted between pain and pleasure. The crying continues when he gets on the bed. The pounding pace picks up. Tristan leans over and kisses his top man. Duncan kisses back. Tristan gets on his back for the final round. He puts a hand on Duncan's pale thigh to thwart some of the anal invasion. Duncan isn't having any of that. He wants to mark that ass. Tristan beats his meat as he gets royally fucked. His load shoots out and covers the area around his belly button. Duncan pulls out and his jizz covers everything, from Tristan's chest to his stomach. "My whole body was numb," Tristan describes the porking just received. That's a lot of sausage for a tight hole. Makes sense Tristan lost some sensation, no?