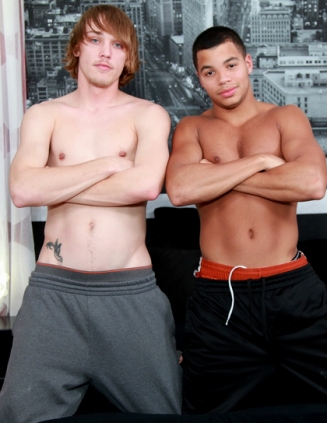 Poor Kaden Alexander. The dude known for his his bubbly personality is subdued in this update. "Duncan's dick is huge," Kaden says to the cameraman. "Man, I really needed the money this time." All fair, but isn't Kaden forgetting how luscious it will look to see him getting busted by Duncan "donkey dick" Duncan? LOL! "No one wants to work with him," the cameraman says about Duncan. "His dick is too big." "It's hard to get scenes," Duncan replies with his trademark giggle. "Dude, it's because your dick is like a fucking football," Kaden explains.
Duncan admits there have been a few times when some lucky girl was just not ready for his monster meat. "They were too tiny," Duncan says. The boys mention what they want for the holidays. For Duncan, it's a car. He forgot to put anti-freeze in his old one and screwed up the engine. As for Kaden, he wants a woman for those cold evenings. The cameraman and Duncan tell him one of his problems is that he might come off as a player. "You got that swagger about you," the cameraman says. "The way you talk. The way you carry yourself." Hey, Kaden? This attitude would not be a problem if you turned to the guys. LOL!
The lads strip and jump on the bed. Duncan sucks first. Puts his head in Kaden's lap and chokes on that sausage. Kaden curses and moans from all of the excitement. His toes start to curl on themselves, which is a sign of good times. Kaden returns the favor, but he can barely get that nasty ol' thing down his gullet. Licks up and down the shaft, and spits all over the pink head. It's time for some melons to get separated. Kaden takes a seat on Duncan's rod and from the start he's yelling to the gods. What's strange is Duncan isn't even all the way in that hot hole.
Duncan is patient and lets Kaden ride it, but the bottom boy can only handle so much. Duncan's dick looks so hot impaling that booty. "Oh, fuck," Kaden groans. Kaden might be known for a top, but he's the pass around bottom today. "Bend over," Duncan orders. Kaden gets on all fours, and now Duncan gets to explore as much as ass as he wants. Grabs a hip and slow pounds that backside. Kaden is nothing but moans and curses. But takes his stuffing like a man. Duncan isn't even paying attention to anything Kaden is saying. He takes that ass until he's ready to bust. He pushes Kaden on the bed and starts stroking his engorged johnson. He dumps his load all over Kaden's abs. Kaden cums next, his jizz stream landing on his sweaty chest. He is soaked on sweat and cum. The cameraman wants to know if Kaden felt that monster in his ass. "Is the sky blue," Kaden replies with a grin. Is the grass green." "Look at the destruction you leave in people's asses," the cameraman says to a giggling Duncan. In the end Kaden offers this about Duncan's donkey dick. "It was bad, but it wasn't horrible." How you would you describe this fucking? :-) And how many of us would like a few "bad" moments with Duncan? :-)