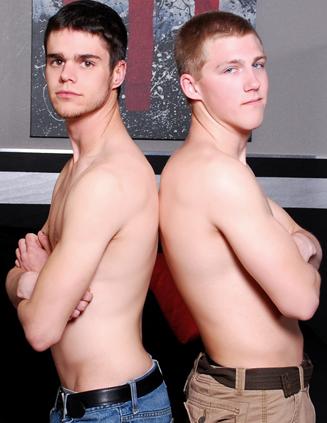 Skyler might not like the moniker, but he is turning into BSB's pass around bottom. In his last
scene Ayden filled Skyler to the rim with dick. Today, Adam's thick tool will do the same, but raw
and natural.

Adam has bitten the proverbial pillow a few times at BSB. When Clay wonders if he has any advice
for Skyler, Adam offers nothing.

"You're not very helpful today," Clay says to Adam.

"It's going to be a good one though," Adam describes the upcoming scene.

And where does Skyler stand on all this? First he says it will be like taking a shit. Adam and Clay
assure him it will feel good.

"Okay. Whatever you all say," Skyler replies with clear doubt in his voice.

The performers take off their shirts and it looks like Skyler has been hitting the gym. He's got the
"V" definition going on. They strip to their underwear. Adam's backside gets a whack from Skyler,
as those sweet cheeks should.

"That tickles," Adam says.

The two jump on the bed, get completely naked, and Skyler sucks first. Skyler has become a pro
at pole love. His oral administrations get Adam's tool thick and juicy. Heck, Skyler's sausage
plumps also. He must be doing something good because Adam's toes curl on themselves! :-)

Adam pushes Skyler's head down, trying to make the boy gag on meat. Doesn't work. Seems like
Skyler has rid himself of a gag reflex. LOL! They switch, with Adam licking up and down Skyler's
popsicle. Adam cups Skyler's balls as his tongue works its magic. Adam even tries to deep throat,
but can't seem to fit all of the dong in his mouth. Skyler isn't complaining.

"Yeah, fuck," Skyler moans.

It's fucking time. Skyler gets on his stomach. Adam lubes up and slowly works his way up Skyler's
man canal. When he's in, Adam's strokes are balls deep. Skyler grunts and holds on. His face a mix
of pain and pure pleasure.

Adam's cock is filling Skyler up. Spreading those hairy cheeks the way they were meant to. The
only sounds heard are Skyler's moans and his juicy ass taking what it must.

Skyler gets on his side, and Adam reenters. Skyler bites his lower lip as Adam marks that ass as
his. Adam is like a machine now. The fucking is steady and relentless. He wouldn't stop even if
Skyler asked him to. But there's no sense Skyler wants it to end.

Skyler gets on his back, and Adam goes in for the third time. He spreads Skyler's legs apart to get
as much booty as possible. The prostate pounding cause Skyler's load to land on the sheets and his
stomach. Adam doesn't stop fucking, even though Skyler has cum. He eventually turns into
"considerate top" and pulls out. He strokes a load that soaks Skyler's abs in man nectar.

After the boys regain their senses, they say goodbye.

"Adam, out!"

"Skyler, later!"

These phrase must be made into t-shirts!