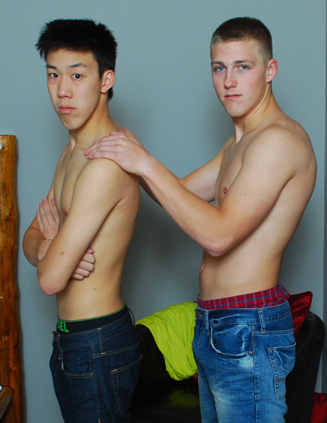 Alex, oh Alex!! Where have you been? It's been too long since Alex Case's last appearance in front of a BSB camera. Today he shares the studio bed with Adam Baer. Mr. Baer will soon be the sole owner of Alex's butt cherry.

"I hope I survive by the end of this," Alex says.

There is a conversation about if anything has been in Alex's booty before today. There's a confession about the possibility of a finger. However, as we all know Adam's schlong is slightly more enlarged than a digit! LOL! Adam is all smiles during this talk.

"Let's do it," Adam announces when the cameraman gives the "action" signal.

The lads take off their clothes, except for underwear. Alex lies on the bed as Adam stands in front of Alex's face. In no time the about to be busted bottom is gobbling on dick. Adam loves what's happening as his sausage gets more beefy. Alex doesn't deep throat, bot his neck muscles work overtime. As for Adam, he reaches over kneads one of his partner's cheeks.

Underwear finally are removed and the two get more comfortable. Alex resumes sucking, but stops to answer a question.

"Think that will fit up there," the cameraman wonders.

"I don't know. Fuck." Alex replies as he holds Adam's hefty piece.

Alex returns to blow job duties. His poor mouth is stretched beyond the limits. There are the occasional gags, but Alex is a trooper.

"He's pretty good at it," Adam notes when asked about Alex's skills.

Alex wipes a few effort tears from his face, but soon it's time for him to feel the force. LOL! He gets on his hands and knees as Adam puts on a condom. The moment there is entry, Alex spews out curses. Adam doesn't even give him a chance to get used to the length of his tool. Nothing but balls deep fucking.

Adam grabs one of Alex's shoulder's for balance and really slams the skinny boy. All Alex can do is moan out a mantra of "fucks."

Alex gets on his side, his knees pulled to his chest. Adam gets back home and the cursing resumes.

"Fuck, dude," Alex whimpers.

Alex stares into Adam's face, looking for some mercy. None today. Adam is too into that ass to stop or slow down. Alex best find a pillow and bite it. Adam maneuvers his partner on his back, without missing a down stroke. Alex's legs are spread apart and the blond top pistons away.

Adam eventually pulls out to nut. His load explodes all over Alex's smooth stomach.

"I barely survived," Alex insists when asked how it went. "That was intense."

He does admit to some moments of pleasure (even though he didn't cum). Who should have another chance at Alex's smooth ass?