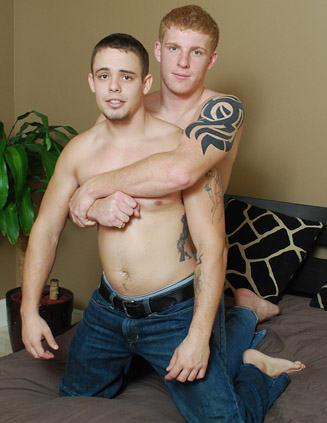 Connor and Denver are both broke but hot to trot today, as evidenced by their lack of t-shirts. As Denver needs to learn how to
deep throat properly, Connor is on hand to provide the cock on which he can practice. Connor sat back on his elbows while
Denver went to work on his cock, squeezing it gently through Connor's jeans. It was easy to see that the two boys got along like a
house on fire, especially as Denver pretended to give Connor's dick a bite. I zoomed in close with the camera, daring Denver to
give it another go. Sure enough, Denver was already gently chewing on the cock before I had even gotten the words out of my
mouth and this time, Denver even gave a little growl. The two boys stood up, stripping off their jeans and boxers, both boys
trading quips with one another.

Kneeling down, Denver opened up wide, slowly swallowing Connor's already hard cock. As Denver bobbed back and forth on
Connor's dick, Denver reached down and wrapped a hand around his own shaft in order to jerk himself off. Connor couldn't help
but stare down at Denver, watching as his cock slid in and out of the hot, wet mouth. A minute later, Connor reminded Denver
that it was a deep throat session and naturally, Denver obliged by swallowing the dick right down to the root with nary a gag in
ear shot. Connor was, of course, impressed with Denver's skills, putting it down to practice at home even as he slapped his cock
against Denver's out stretched tongue. As Denver went all the way back down again, Connor told him how he liked his blowjobs
done. 'Oooh!' uttered a delighted Connor as Denver followed his instructions, Denver grinning around the cock in his mouth.
There was no doubt that Denver had improved his cock sucking skills since the last time he appeared in the studio as he took a
quick face fuck from Connor with ease. A few minutes later, Connor suggested indulging in a 69, something that Denver was keen
to try.

The boys scrambled into position on the bed, however, Connor reached behind the bed and pulled out a surprise for Denver; a
dildo and a bottle of lube. Denver was definitely taken aback by the appearance of the dildo and wanted more money, however, I
told Denver to display his virgin ass hole before we came to a monetary decision. As he positioned himself over Connor, Connor
reached up and grasped Denver's butt cheeks, pulling them apart so that Denver's ass was in clear view. In the end, we agreed on
an extra $175 and Connor started to lube up the dildo, all the while, Denver waited somewhat nervously. As he started to work
the head of the dildo into Denver's ultra tight ass, Connor hinted for Denver to suck cock again. Grunting in discomfort as the
head breached his ass, Denver distracted himself by sucking on the head of Connor's dick. Connor slowly drew the fake dick in
and out of the virgin ass, all the while, jacking off Denver's dick. A moment later, Denver proved he had skill by reaching around
and holding his ass cheeks apart even as he continued to give Connor an excellent blowjob. I asked Denver if he could handle a
real dick in his ass and once again, more money was negotiated, Denver agreeing on an extra $225.

Denver and Connor got themselves prepped and once done, Denver lay front down on the bed, Connor straddling his ass. 'Oh!'
grunted Denver as Connor slid his thick cock all the way in. Draping himself over Denver's back, Connor set a steady pace, his
hips rising up and down as he popped Denver's cherry. Only seconds later, Connor was riding the ass hard, all the while, Denver
was groaning in a combination of pleasure and pain on each thrust. As Connor fucked Denver hard, he reached around and put a
hand over Denver's mouth, muffling the continual noise. There was no doubt that Connor was dominating Denver, something that
Denver wasn't objecting to in the least. Going deep and hard, Connor paused only to get Denver to flip over onto his back. Legs
held apart by Connor, Denver's breathe hitched as Connor drove his dick right back home. Gripping onto the mattress, Denver
gritted his teeth as Connor fucked him deep and hard. Connor pulled Denver further onto his dick, Denver uttering a deep groan
as he felt the thick cock thrust all the way in. The boys were proving that they had stamina to spare and despite Denver's earlier
concerns, he was showing that he was more than capable of taking on the Big Redwood. In a cheeky move, Connor pulled out,
pried apart Denver's ass cheeks and showed off the freshly fucked hole before slamming all the way back in again.

Bracing himself against Denver's right leg, Connor rocked back and forth even as he wanked Denver's dick. These boys were about
to cum but it was just a matter of who fired off first. Still, the boys decided that one more change up was appropriate so they
shifted with Connor spooning behind Denver. Denver gasped as Connor slid his dick all the way in. It was more of a leisurely fuck
in this new position, Connor slowly rotating his hips as he fucked the tight ass even as Denver wanked himself off. In a spur of the
moment, Denver pulled Connor in close for a what looked like a hug, not that Connor objected. A minute or two later, Denver was
fisting his dick at lightening speed when, all of a sudden, he shot a huge load into the palm of his hand. Seeing this prompted
Connor into cumming as well, however, he hadn't had time to take off the condom so he tipped his cum out over Denver's smooth
chest before massaging it in. In a surprise move, Connor leaned down and kissed Denver, whom immediately responded by
adding a little tongue to the snogging.