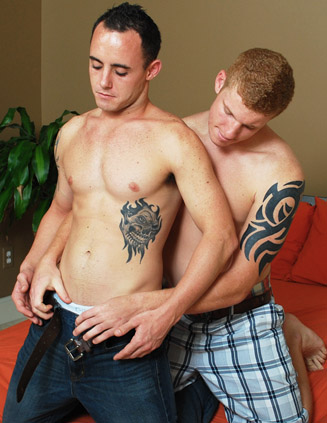 Connor and Ty are back in the studio together and are ready for some more man on man action. Ty is going to be bravely taking
care of The Big Redwood's cock and despite being somewhat nervous about it, Ty says he has a lot of faith in himself in that he can
see it through to the end. Eager to get started, the two boys stood up and stripped off their t-shirts, both revealing buffed upper
bodies that complimented each other. Ty turned to the side so that Connor had easier access in which to undo Ty's belt buckle and
jeans before helping to slide the jeans down Ty's thighs. Once done, Ty pushed his ass out a little, showing off his nicely rounded
buttocks. Somewhat excitedly, Connor grabbed Ty's ass and pried apart his butt cheeks in order to flash Ty's hole to the camera. "I
like working with new guys!' offered Connor in defense to Ty teasing him that Connor was having too much fun. As Connor undid
his own belt buckle and started to tug down his shorts, Ty turned to him and with quite a sultry look on his face, Ty leaned in for a
kiss. The two boys locked lips and started snogging, Ty introducing tongue a moment later. Breaking apart for a brief moment so
that Connor could pull his shorts over his bare feet, it was obvious that the two boys liked kissing each other as they each had a sly
grin on their face as they dived in for some more hot action.

Shifting to the bed, Connor and Ty settled down next to each other, each boy with a hand on their own cock and slowly stroking
their shaft. It was decided that Connor was going to give Ty a blowjob first but not before a little more tongue dueling. Somewhat
reluctantly parting from each other, Connor leaned over and swallowed down Ty's cock. Bobbing up and down, Connor made sure
he showed off his hard earned oral skills as he pleasured Ty. Meanwhile, there was no doubt that Ty was loving the blowjob as he
encouraged Connor to go down even further by gently pressing on the back of Connor's neck. Reaching around behind Connor, Ty
took control of Connor's cock, leisurely stroking the hard shaft. Coming up for air, Connor slapped the head of the dick against his
out stretched tongue a few times before diving back down. A few minutes more and Ty decided it was his turn for a bit of fun.
Connor stood up on the bed while Ty shifted onto his knees, an excited grin on his face. Bragging that he could do a better blowjob,
Ty immediately pulled out all his tricks as he slurped up and down the length of Connor's thick cock. Licking up and down the shaft,
Ty proved he could deep throat with the best of them as he swallowed Connor's dick to the root. Twisting his head one way and
then the other, Ty lavished attention on Connor's dick even as he jerked himself off. Despite choking, Ty allowed Connor to briefly
partake in some face fucking before licking the length of the dick again.

Soon enough, it was time to get down to the main event. Ty got down on his hands and knees on the bed while Connor stood
behind him, prising apart Ty's ass cheeks and showing off Ty's about to be fucked hole. Slathering lube over his dick, Connor set
about working his cock into Ty's tight ass, even as Ty groaned from the feeling of a dick slide all the way up into him. Once all the
way in, Connor set a slow but steady pace as Ty got used to being fucked. Giving Ty's white ass a hearty slap, Connor sped up a
little, his thrusts making Ty's dick and balls bounce up and down. Ty shifted so that he was standing on the floor while leaning over
the bed, a move that proved a better one to fuck in as Ty started to pant in excitement. Connor's cock slipped out but Connor took
the opportunity to slap his cock head against Ty's well fucked ass hole. Slamming his dick back in again made Ty grunt in both pain
and pleasure, Ty reaching down to jerk himself off only for Connor to kindly do it for him. By now, both boys were dripping with
sweat from all their hard work but it was obvious they had the stamina to go for hours. Connor had a keen liking for Ty, that much
was clear when he suddenly leaned right in and locked lips with a more than willing Ty again. However, they quickly broke apart
again as it was time for them to try some gymnastics. Ty lay down on the floor on his back, legs raised as Connor bodily pulled him
closer.

With Ty almost bent in half, Connor dipped his dick down into Ty's ass hole and started fucking him. Tugging on his cock in
earnest, Ty groaned as this new position allowed him to every single inch of Connor's cock pounding his ass. This was an athletic
position, which showed off just how fit these two boys were. Bobbing up and down, Connor panted heavily as he rode Ty's ass hard.
Suddenly, Connor bent all the way forward and started to snog Ty, obviously turned on by Ty;s own pleasure. A few minutes more in
the demanding position and Connor decided that it was time for one more switch up. This time, the position was fairly tame but
Connor was riding Ty's ass like there was no tomorrow, all the while, Ty jerked himself off at a furious rate. Panting heavily, Ty shot
his load all over his stomach, the cum dribbling down his shaft, even as Connor kept fucking him. Connor cheekily licked a trail up
Ty's chest before kissing him, the boys trading tongues. Going back for more, Connor licked a little bit of Ty's cum this time and
again locked lips with Ty even as he quickly fisted his own dick. Leaning back, Connor went for broke as he jerked himself off only
to spray Ty's stomach with cum a moment later.