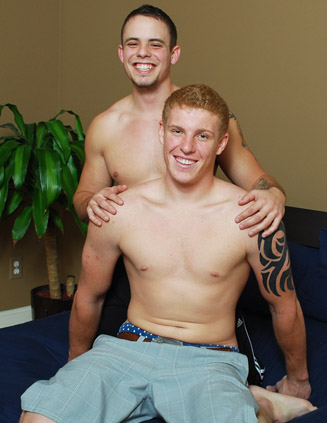 Two sexy boys, Connor and Denver, are in the studio today and right away, it's easy to see that they are getting along like a house
on fire. As the boys looked they were ready for action, I got them to take off their t-shirts before zooming in on Connor as we
discussed how Denver was about to fuck his first ever guy. Standing up, Connor dropped his shorts and underwear on the floor
and turned around, showing off his very fuckable ass to the camera. With a huge grin on his face, Denver couldn't help but give
Connor's ass a hearty slap. However, he quickly gave the other cheek a couple of harder slaps. With a little encouragement,
Connor hopped up onto the bed and laughed as Denver spread his ass cheeks. While Connor said he was a top and wasn't too
happy about getting fucked, his wide smile belied the words. Nonetheless, it was time to get dicks stiff.

As the two boys argued about who was going to blow who first, Connor got himself comfortably settled against the headboard of
the bed while Denver got completely naked. Once it was decided that Denver was going to suck dick first, he climbed up onto the
bed beside Connor and immediately went to work even as he started to play with his own cock. Swallowing almost the whole
length of Connor's cock, Denver slowly bobbed up and down. He was doing such a great job at sucking dick, Connor asked if he
was really straight which only made Denver laugh. The two boys obviously had a great rapport as they joked with one another,
Denver even skilled enough to talk with a dick in his mouth. Reaching over, Connor decided to give Denver a hand job, only to
discover that Denver was already half hard. Soon enough, Connor's cock was at full mast. Denver, in a daring move, tried to go all
the way and he almost succeeded until he gagged a little on the last half inch.


Denver was doing a great job as the dick slid in and out of his hot, wet mouth, all the while, Connor gently patted Denver's hair.
Even as Connor was panting heavily, thanks to Denver's hard work, it was decided that it was now Denver's turn to relax. The boys
got themselves comfortable, Connor quickly taking ownership of Denver's dick even as Denver gave Connor's cock a helping hand.
With the dick sliding in and out of his mouth, Connor found himself encouraged to go deeper thanks to the weight of Denver's
hand on the back of hishead. As Connor showed off his oral skills, Denver could only watch in rapt attention as his dick was
treated like a favorite treat. All too soon for Connor though, it was time to get his ass fucked. Connor and Denver got themselves
prepared, Connor assuming the doggy position on the bed while Denver cheekily gave his ass a couple of slaps. As Denver worked
his cock into Connor's tight ass, Connor groaned in discomfort as he tried to get used to the unfamiliar sensations. Slowly, Denver
rocked back and forth as he let Connor relax a little before picking up the pace. Pressing his face into the mattress, Connor
muffled his groans as he struggled to adjust to feeling of a cock all the way up his ass. Two slaps from Denver left red handprints
on each of Connor's butt cheeks, Connor reaching around and pulling his cheeks apart so that there was a good view of Denver's
dick sliding in and out of his ass. Picking up the pace, Denver's hips snapped back and forth as he wrung a groan out of Connor
on each thrust.


Flipping over onto his back, Connor raised his legs into the air as Denver slammed his dick back home. Denver paused briefly for
Connor to coat his dick with more lube before getting a steady rhythm going. Holding his legs wide open, Connor proved he was a
glutton for punishment when he ragged on Denver, which in turn, only encouraged Denver to go all the harder. In order to take
his mind off being fucked, Connor grabbed hold of a pillow, putting it over his face even as Denver started to jerk him off. Despite
his protests, Connor wasn't that put off, especially when Denver leaned down and kissed him. Connor was more than happy to
return the kiss, the two boys passionately trading tongues. Being kissed revitalised Connor who took control of his cock again,
furiously wanking himself off even as his ass was being thoroughly plowed. Only mere moments later, cum decorated Connor's
stomach and pubes while Denver gave a couple more hard thrusts. Unable to help himself, Denver grabbed hold of Connor's dick
and tried to squeeze a fedrops of cum from the long shaft. Pulling out, Denver rolled off the condom and stripped his dick in
hard, fast motions until a minute or two later, Denver shot his load all over Connor's stomach. The two boys then decided to allow
the Broke Straight Boys viewers a special treat by letting the camera follow them into the bathroom as they got cleaned up.