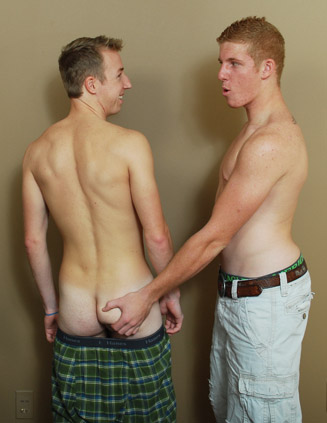 Tim is back in the studio for some more man on man action and this time, Connor is more than happy
to participate in the fun. Connor is going to be popping Tim's cherry and even though he is visibly
nervous, Tim is up for the challenge. Both boys were raring to go and such, they got naked almost
right away. As Tim's virgin ass was going to be broken in in today's session, I had him turn around
and flash his well rounded ass cheeks to the camera, Connor reaching over for a double handful of
Tim's ass and from the grin on Connor's face, Connor liked what he saw. To start both boys off in
the right mood, a little oral action was in order so Tim and Connor scrambled into position on the
bed.

Connor knelt up on the bed while Tim lay on his side in front of him. Wrapping a hand around his own
cock, Tim swallowed down Connor's cock even as he jerked himself off. Right away, it was clear that
Connor was loving Tim's blowjob and he couldn't help but hint for Tim to try and go deeper. Never
one to shy away from a challenge, Tim leaned forward and swallowed the thick cock right down to the
root, something that Connor obviously appreciated from his groan of pleasure. Despite it being
somewhat of an awkward position, Tim had no problems in getting his own dick rock hard, his hand
sliding up and down his thick shaft even as he bobbed back and forth on Connor's longer dick.
Licking up and down the hard shaft, Tim swirled his tongue around the head before going all the way
back down. Even though he had to break off every now and again for some much needed air, Tim's
efforts were given a hearty two thumbs up by Connor. With Tim completely out of breathe, it was now
time for Connor to show the younger boy some new tricks. Tim sat back onto his elbows, watching
intently as Connor leaned down and slid the thick cock into his hot, wet mouth. Right away, Connor
had Tim moaning in pleasure, Time loving it so much, that he helped Connor go deeper by gently
pushing down on the back of Connor's head. As he licked around the very tip of Tim's dick, Connor
started to put in some hard wrist action as he worked on keeping his own dick rock hard. A not so
gentle shove from Tim had Connor choking as the cock head brushed the back of his throat, however,
he recovered almost instantly and like a true pro, he went right back to work. All too soon though,
at least for Tim, it was time to get down to the main event.

Both boys got themselves prepared and moved into position; Tim on his elbows and knees on the bed
while Connor stood behind him. Taking care, Connor slowly worked his cock into Tim's tight, virgin
ass, all the while, Tim concentrated on his breathing. Once fully in, Connor started to gently fuck
Tim, his cock sliding and out until Tim was comfortable enough for Connor to pick up the pace. As
this was his first time getting fucked, Tim wasn't too sure what to think, and the expression on his
face made it difficult to see if he was liking it or hating it, however, there were hints that he
wasn't too adverse to the idea of being fucked. Reaching down between his legs, Tim jerked himself
off and wasn't able to resist a grin when Connor gave him a slap on the ass. Leaning right down, Tim
groaned as Connor started to bang his ass hard, the bed creaking like it was in an earthquake. The
boys switched things around as it was decided that Tim was going to try and ride Connor's cock.
Connor got himself comfortable up against the headboard of the bed while Tim straddled his lap and
slowly impaled himself on Connor's thick cock. Once most of the way down, Tim held himself still by
holding onto the bed frame even as Connor fucked him from below. Connor rose up and down, his dick
driving up into Tim's tight ass while Tim fisted his own dick. By now, the two boys were dripping
with sweat as they worked hard for their money. From this position, Tim was feeling every inch of
Connor's thick cock as it thrust in and out of his ass. Connor was fucking Tim hard and fast,
panting heavily as he enjoyed the feel of the virgin ass around his cock.

Only a moment later, it was clear that Connor had gone past the point of no return and instead of
pulling out while he was close to cumming, instead, he decided to do something that hasn't been seen
very often on Broke Straight Boys. Groaning in ecstasy, Connor thrust up hard... one.. two.. three
times before slowly drawing his cock all the way out and sliding out from under Tim. Kneeling next
to him, Connor rolled off the full condom and poured the contents out over Tim's chest. As an
apology for cumming in the condom, Connor snuggled up next to Tim and locked lips with him, all the
while, Tim wanked himself off. It was clear that Connor was enjoying the snogging, likewise with
Tim, who was only slightly distracted by putting in some serious wrist action in his efforts to show
off a cum shot. The highly erotic task of kissing Connor helped to tip Tim over the edge as he cum
dribbled down his shaft and inbetween his fingers.