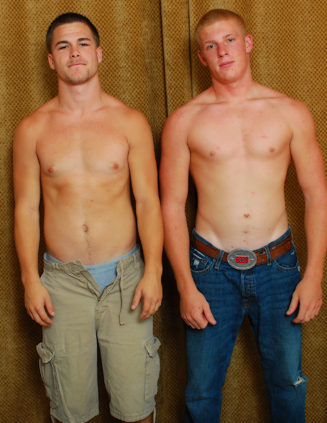 Our most popular redhead, Connor, is back on the bed today, along with always confident Jimmy. Today, Connor is going to be getting his cherry popped, thanks to Jimmy's big dick. The two boys chatted back and forth as Connor stood up and stripped off naked, turning around and showing off his ass for the camera. Jimmy followed suit until he was left standing, playing with his dick through the grey boxers. Connor and Jimmy kept back chatting each other even as they worked their cocks up. Surprisingly, Connor got his dick rock hard first, which meant Jimmy had to give head first.

Shucking off his undies, Jimmy lay down on the bed next to Connor and slid the cock in between his straight boy lips. Even after all this time, it was obvious that Jimmy hadn't lost any of his cock sucking skills. However, as always, Jimmy managed to make a fuss about having to give head but Connor just sat back and enjoyed the feel of a hot, wet mouth surrounding his cock. Sucking on just the very tip of Connor's dick, Jimmy panted and puffed and spluttered as he got re-acquainted with the taste of cock. Not soon enough for Jimmy, it was Connor's turn to return the favor. Jimmy sat back against the headboard as Connor slid down so his face was in line with Jimmy's dick. Right away, it was easy to see that Connor was giving an excellent blowjob as Jimmy was panting in pleasure almost instantly. When Jimmy pushed down on the back of Connor's head, Connor just took it in stride and continued to lavish the thick cock with attention. Jimmy was enjoying the blowjob so much, he decided to help Connor out by giving him a little neck and shoulders massage as Connor got busy with his dick.

As Connor bobbed up and down, Jimmy dared him to go all the way down, Connor instantly complying. Even though he choked, Connor got almost all the dick down his throat. All too soon, it was time for the main event. Jimmy rolled on the condom and lubed up his dick as he discussed positions with Connor. Deciding on doggy style first, Connor got down on his knees and elbows while Jimmy knelt behind him. With slow, gentle thrusts, Jimmy worked his cock into Connor's virgin tight ass. Slow and steady, Jimmy started fucking Connor. 'Feel alright?' asked Jimmy, Connor replying that it felt good and that Jimmy could go a little harder. Reaching behind himself, Connor parted his ass so that Jimmy could get his dick in even further. Face planted in the mattress, it was clear that Connor was getting off on the feel of a dick all the way up his straight boy ass.

Speeding up, Jimmy's hips were snapping back and forth as he rode Connor's ass hard. 'Feel good?' Jimmy demanded, Connor just grunting his approval. Connor, wanting to feel every inch of Jimmy's thick cock, reached around and grabbed hold of Jimmy's leg, pulling him in as close as possible. By now, both the boys were perspiring from all their hard work, the sweat dripping down their chests and running down their faces. Connor flipped over onto his back with Jimmy kneeling between his wide spread legs. Directing his dick forward, Jimmy thrust back home in one go. This new position was much easier for Connor as he was able to jerk himself off as he was getting fucked. 'You like it slow or fast better?' Jimmy asked, instantly slowing down when Connor said that he preferred it slower. However, Jimmy, caught up in the wonderful feel of a tight ass surrounding his dick, was unable to stick to the slower pace and picked it back up again after only a minute or two. All the while, Connor leisurely stroked his own cock.

With Jimmy still fucking his ass, Connor shot his load all over his stomach and shaved pubes. Pulling out, Jimmy tugged on his own cock and only a moment later, cum dribbled down onto Connor's cock and balls.