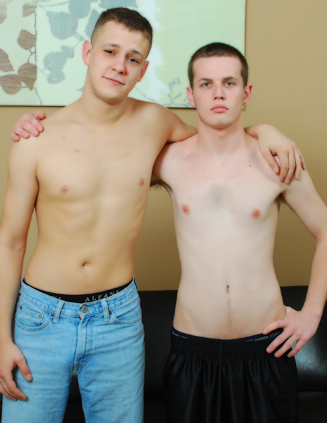 Two of the best looking boys at Broke Straight Boys are in the studio today; Jason and Anthony.
Since he was here last, Anthony has just started a new job at a car sales yard but since has only
been there a week, he is back in the studio for some extra cash while Jason has just been enjoying
some lazy days. Both boys were ready to get the show on the road so they stood up and stripped off
naked in record time. Sitting down on the futon next to each other, Jason and Anthony grabbed hold
of their dicks and worked on getting hard. Jason, with a sly glance at Anthony's rock hard cock,
leaned over and slid the long shaft between his lips.

Right away, Anthony couldn't help but be impressed by Jason's oral skills and was soon left
breathless as Jason worked his magic. His own dick rock hard even as he showed off all he had
learnt at BSB, Jason made sure that Anthony enjoyed every minute of his blow job. As Jason bobbed
up and down, Anthony pushed down on the back of Jason's head, encouraging him to go down even
further. By now, Anthony was moaning in pleasure even as Jason jerked himself off. Now though, it
was time for Anthony to show Jason just how much he had learnt during his previous visits to BSB.
Jason sat back and relaxed as Anthony swallowed the hard cock. With a hand wrapped around his
dick, Anthony wanked off even as he experiment with deep throating Jason's long dick. While
Anthony wasn't as experience as Jason when it came to cock sucking, there was no doubt that he
was trying all the tricks in his book, something that Jason looked like he was appreciating. His
confidence building, Anthony tried to deep throat again but choked and pulled off coughing. However,
like a pro, he went right back down for more.

Jason wasn't shy in admitting to Anthony that he was loving the blow job, making Anthony grin at
the compliment. As a reward for all of Anthony's hard work, Jason told Anthony to kneel up on the
futon, his ass facing the camera. Kneeling on the floor behind Anthony, Jason spread Anthony's ass
cheeks before leaning right in and starting to lick the hole. Anthony wasn't too sure what to think
about it all but, as he leisurely jerked himself off, all the while, Jason lavished the hole with his
undivided attention. Soon enough, Anthony was groaning in delight as Jason tickled his ass with his
tongue. Now though, Anthony was relaxed enough for Jason's big dick. Scrambling into position on
the futon, while Jason got himself prepared. Leaning down on his elbows, Anthony concentrated on
his breathing as Jason worked his thick cock into his tight ass. With a hearty slap to Anthony's ass,
Jason was able to set a steady pace almost immediately.

'Pound that ass bro, pound it!' demanded Anthony, Jason was only too happy to comply and with a
determined look on his face, began fucking Anthony brutally hard. As hard as Jason was fucking him,
Anthony was loving it and even encouraged Jason to keep going. Pulling Anthony closer towards him,
Jason was giving him no mercy as he pounded that ass. Moaning from the place of Jason's thrusts,
Anthony was proving to be a complete bottom bitch, taking everything that Jason could throw at him
in his stride. A few moments later and the boys decided to try spooning so Anthony rolled over onto
his side, with Jason sliding in behind him. One hard thrust and Jason's dick was all the up Anthony's
ass again.

Lifting Anthony's leg, Jason didn't take long to get back in stride, riding the straight boy's ass hard.
Anthony was content for Jason to do all the hard work and instead, just concentrated on enjoying the
feel of a dick inside of him while he jerked himself off. There was no doubt that both boys were
enjoying their time in front of a camera, Jason and Anthony dripping with sweat even as they both
grunted in pleasure. His hips pumping faster and faster, Jason literally fucked the cum out of Anthony
as cum dribbled all over Anthony's stomach before dripping down his hip. Tearing off the condom,
Jason knelt up beside Anthony and jerked himself off with a vengeance, liberally dousing Anthony in
cum.