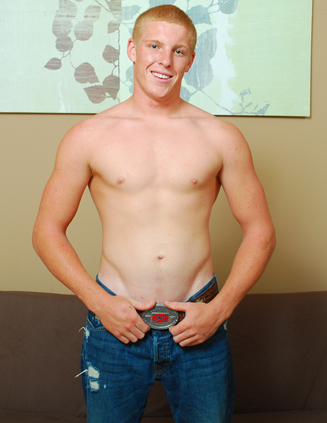 Connor is the latest boy to hit the Broke Straight Boys futon. I met Connor at a Brad Paisley concert and even though it was my first country music concert, Connor is a huge fan. Connor was cheeky enough to ask me if I could buy him a drink as he was underage so I knew that he should be up for some fun on the futon so I gave him my number. Although Connor wasn't too sure if he should call, his friends ended up persuading him to give it a go which was just as well as he had wrecked his bike a few days earlier and now, he needs some extra dosh in order to pay for repairs. Today, Connor is willing to jerk off in front of another man for the first time.

Standing up, Connor is about 6' 1" with cropped red hair. He took off his chequered shirt and threw it to the floor, revealing a solid build. Doing some flexes, Connor showed off his muscles before turning around and allowing us to take a good look at his nicely shaped back and the tattoo decorating it. Undoing his belt, Connor slid off his jeans and underwear, slowly turning around again so that the BSB members could see his well formed ass. There was a large tattoo on his left thigh so I got in close, Connor explaining that it was written in Polish and that the bird was the Polish eagle. He went on to say that he was 75% Polish. However, it was now time to get down to the main event.

Sitting back down on the futon, Connor started playing with his dick as he watched some straight porn playing off screen. Like most models, it didn't take him long to get rock hard so I had Connor stand up so that he could show off his thick erection, Connor grinning and waggling his dick for the camera as I zoomed in close. At only 19 years of age, Connor had a great body so it was nice to see that he wasn't too shy in allowing himself to show it off. Slowly but surely, Connor's hand slid up and down the hard shaft of his dick. To distract him a little, I had Connor kneel on the futon, his back to the camera and keep jerking off. A few moments later, I told Connor to lean forward and to tug on his dick between his legs. Connor quickly complied but I had to remind him to look towards the camera and not to hide his face.

By now, Connor was panting hard and working up a sweat from all his strenuous activity. At my request, Connor leaned forward even further and pushed his ass out towards the camera, allowing for a great shot of his virgin ass hole. Connor had such a nice ass, on a whim, I told him to slap his butt and without a pause, Connor reached back and gave himself a hard slap on the ass. Likewise, Connor barely hesitated when I asked him to spread his ass cheeks, instead, he instantly complied so that his rosy hole could be clearly seen, all the while, he kept jerking himself off. I asked Connor how it felt, Connor saying it felt good with a huge grin on his face. Sitting back down, Connor wanked off at a furious rate as he got closer and closer to cumming. As his hand flew up and down his shaft, Connor admitted that he was just about ready to cum. Only minutes later, with sweat dripping down his chest, Connor came with a grunt as cum dribbled down his shaft.