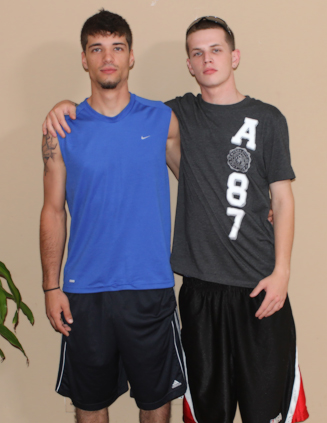 The ever popular Darren is in the studio today along with Anthony. Since the last time we saw the
boys, Anthony has been on a date that wasn't quite successful, however like always, the boys are
broke and are in need of some quick dosh. Darren and Anthony stood up and stripped off in record
time before sitting on the edge of the bed and wanking off until they were rock hard. Getting their
cocks hard never takes long for Broke Straight Boys models so it was mere minutes until Anthony
and Darren were ready to take things to the next level.

As Anthony was still the new boy on set, he went down first, taking Darren's thick cock in his mouth.
From Darren's relaxed expression, it was obvious that Anthony had been paying attention during his
previous cock sucking practice. Bobbing up and down, Anthony broke off every now and again to lick
up and down the long shaft, twirling his tongue around the head of the thick cock. As Anthony started
to play with his own dick, Darren took the opportunity to gently face fuck him for a brief minute or
two before leaning back and enjoying the expert blow job. Anthony was testing out all his newly
learnt skills on Darren's dick, breaking off every few minutes to give the thick dick a couple of hard
pumps before swallowing it back down. Coming up for air, Anthony could only laugh when I asked
him how Darren's dick tasted but said that he guessed it tasted like a dick.

Now it was Darren's turn to return the favor so Anthony leaned back and let Darren do his thing.
Leaning over, Darren slid the long dick into his mouth and went to work. A few moments later,
Darren lifted one of Anthony's legs to the side and let it rest over his own thigh even as he reached
down and started to rub his finger lightly over Anthony's ass hole. BSB's noisiest cock sucker bobbed
up and down on Anthony's dick and even gave Anthony a few hearty slaps on the ass. All the while,
Anthony just lay back and enjoyed the feel of a hot, wet mouth on his cock as Darren worked his
magic.

All too soon, it was time to get down to the main event. Spooning behind Anthony, Darren worked
his thick cock into Anthony's tight ass. Holding Anthony's leg in the air, Darren was able to set a hard
and fast pace almost right away even as Anthony took hold of his own dick and started to wank
himself off. 'You like that dick?' Darren demanded as he fucked Anthony's ass hard, Anthony replying
with a moan that it hurt. Darren's hips pistoned back and forth as he reached down and gave
Anthony's well formed butt cheeks a smart slap. Another couple of slaps surprised Anthony into
laughing. By now, Darren was riding Anthony's ass prison style, hard and brutal, causing Anthony to
moan in discomfort.

Darren, normally an easy going top, was getting all dominant on Anthony as he wrapped a hand
around Anthony's throat and squeezed. The move only made Anthony pant as he found the
discomfort making way for a sliver of pleasure. There was no doubt that Anthony's ass was taking a
brutal pounding but like a true professional, Anthony took it all in stride. Switching it up, Anthony
turned around and got onto his elbows and knees while Darren stood behind him and thrust his cock
back into the tight hole. Picking up a strong pace, Darren thrust in and out as Anthony concentrated
on his breathing. Slapping Anthony again, by this time, Darren had worked up a heavy sweat,
likewise with Anthony. Only minutes later, the boys changed positions again, this time, Anthony on
his back and Darren kneeling in between Anthony's spread legs.

Holding Anthony's legs apart by the ankles, Darren fucked him at a steady pace as he worked
towards his money shot, all the while, Anthony jerked himself off at a furious pace in the hopes of
beating Darren to the punch. Sure enough, with Darren still plowing his ass, Anthony came all over
himself, cum shooting over his stomach. Darren kept fucking Anthony hard as he got closer and
closer to cumming when he suddenly pulled out, tore off the condom and jerked himself off over
Anthony and spraying cum onto his stomach and down his hip.