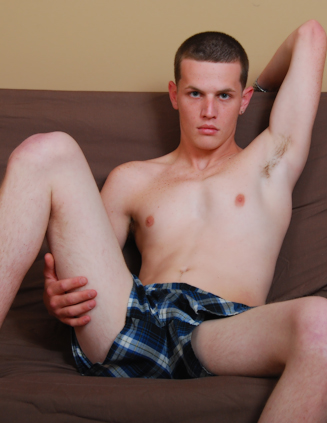 I met Anthony, the latest Broke Straight Boys recruit, at a gas station and
as he looked like he needed some quick cash, I suggested that he come
into the studio and do a solo session. Anthony admitted that he could do
with the money as he had just lost his job and had been kicked out of his
house. Standing up, Anthony stripped off his t-shirt and jeans, revealing a
pale but slightly toned body. I noticed he had a large tattoo on his right
forearm so I zoomed in for a closer look even as Anthony explained the
tattoo was of a demon. Sitting back down, still clad in his cotton boxers,
Anthony got himself a handful of lube before sticking his hand down the
front of them and starting to jerk himself off.

As he played with his cock, Anthony talked about fucking girls and that his
favourite position was doing it doggy style. I wanted to see Anthony's dick
so I got him to stand up and pull down his boxers. Anthony, gesturing
towards his stubble covered crotch, said that he normally shaved but had
missed a day or two. A moment later, he sat down on the futon and with
another squirt of lube, Anthony alternated between rolling his balls and
stroking his dick. With both feet up on the edge of the futon, Anthony was
showing off his virgin ass hole. Soon enough he was rock hard and
surprisingly, with no prompting, Anthony reached down and lightly ran a
fingertip over his ass hole even as he jacked himself off. With some
encouragement, Anthony has no hesitation in inserting a finger right into
his ass, gasping as he did so.

In and out, in and out, Anthony gently fucked his own ass with his finger,
his toes curling in pleasure as he jerked off even faster. Shifting around,
Anthony got onto his knees and kept putting in the hard wrist action. His
cock was so nice, I moved in for a close up and couldn't help but
compliment him on how nice his dick looked. Anthony blushed a little at
the compliment but took it in his stride. Despite being quiet, Anthony was
full of confidence and he wasn't having any trouble being in front of a
camera even when I told him to turn around and show off his ass.
Anthony turned around and draped himself over the back of the futon.
Leaning down, he wiggled his ass back until there was a clear shot of his
ass hole and then reached down and shoved his dick between his legs.

It wasn't long before Anthony moved around again into sitting on the futon
with his legs up in the air, playing with his ass even as he jerked off.
Wanking off at a furious pace, Anthony toyed with sticking his finger up
his ass, his toes curling as before as he got more and more turned on. As
he finger fucked himself, it was obvious that Anthony wasn't going to last
much longer before he shot his load. Sure enough, moments later, he
announced he was about to cum. He tugged once.. twice.. three times on
his cock before cum dribbled onto his stomach and trickled down the shaft
of his long dick. Open to all ideas, Anthony didn't hesitate when I told him
to rub some of the cum onto his ass hole. Sticking a finger into the thick
pool of cum, Anthony, with a sly grin, reached down and rubbed his finger
over his hole. With Anthony willing to experiment, I'm sure he will be back
in the studio in no time at all so make sure you watch out for him in the
updates.