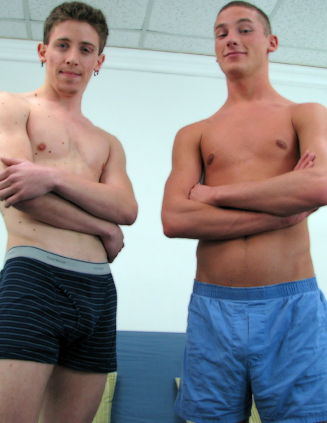 On the futon today is the viewers request of Scott and Leon. While Leon has been a model for a while now, Scott is still a relative newbie. As we started discussing what the boys thought an oral scene was worth, Leon said he wanted at least $700 for some new gaming consoles and his home business while Scott wanted the same so he could put the money towards an iphone.

The boys stood up and stripped down naked. Both Scott and Leon had nicely muscled bodies and as they faced each other, I asked them if they would kiss but, like most of the models, they were reluctant to do so as they saved kissing for the girls. Sitting back down, they started working on their cocks as they watched the porn on the tv. Scott was rock hard in almost an instant while Leon wasn't far behind him. Scott stood up, Leon on his knees in front of him and sliding the hard cock into his straight boy mouth with enthusiasm.

Right away, it was obvious that Leon had some serious cock sucking skills as he had Scott moaning for more within mere minutes. Twisting his head one way and then the other, Leon worked on Scott's cock. As Leon sucked on just the head of his cock and pumped the shaft, Scott admitted, with some amazement, that Leon was doing a pretty good job. Each time Leon pumped the hard shaft with his hand, Scott's low hanging balls jumped and swayed. Leon definitely wanted his gaming console quite badly as he was pulling out all his tricks.

Soon enough, it was Scott's turn to earn his money so Leon lay down on the futon while Scott knelt between his spread legs and worked on Leon's soft cock. Scott had picked up a great set of oral skills from his limited time on the BSB futon as well, quickly getting Leon rock hard as he sucked on just the head of Leon's cock while pumping the shaft. Scott may be a straight boy but he deep throated like a complete pro when Leon told him to, making Leon moan for more. Scott applied some hard suction to just the head of Leon's cock, Leon squirming from the pleasure of it all. Leon told Scott to just use his hands on his cock so Scott set a fast but steady pace as he wanked Leon before going back down on the hard dick.

A few minutes later, Leon sat back up and decided it was time to suck on Scott again. Scott stood up, Leon sitting on the futon and sucking on Scott's dick like it was his favorite party treat. Leon wrapped a hand around his own cock and wanked off as he pulled out all the tricks in getting Scott ready for the money shot. Massaging Scott's ball as he sucked on the long dick, Leon rubbed the sensitive cock head on the inside of his cheek for extra pleasure. Leon, feeling daring, said he wanted to try something he had never done before which piqued Scott's interest.

Scott slouched back into the futon while Leon positioned himself so that he was able to piston his cock in and out of Scott's mouth. This seemed to be the position that worked the best for both of them as Scott could just suck cock while Leon actually did all the work. As Scott ran out of breathe, Leon leaned back a few inches and told him to just jack him off. Wetting Leon's dick with his tongue, Scott furiously stripped the hard cock. Soon enough, Leon announced he was ready to cum and only a moment later, he shot a steady stream of cum over Scott's shoulder and chest. Now it was Scott's turn to cum so Leon leaned over and sucked on Scott's dick as he fisted the hard shaft. Massaging Scott's balls, Leon sucked on just the very tip of the cock, making it clear that Scott was only moments away from cumming. Scott came, spraying like a fire hose as cum went everywhere.

Both boys did a great scene, helped along by some natural chemistry. I'll be getting them together again very soon so watch out for it.