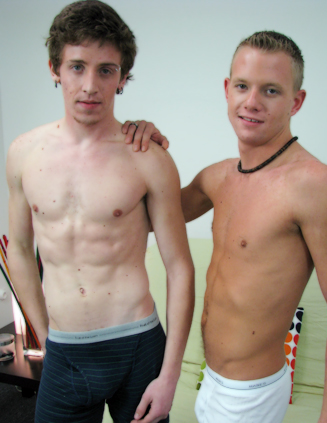 At the Broke Straight Boys studio today, we have Leon and Preston. Both boys have appeared on the futon before but never together and now, it's time to make that happen. While we were chatting, I found out that Leon has actually started his own legalized marijuana farm with all the money he has made at BSB, however, he hopes to expand upon it thus, he needs to make some more money while Preston is broke as he lives in Key West, an expensive area. Just to refresh everyone's memory, Preston is bisexual while Leon is somewhat ambiguous about his 'label.'
With a price of $500 each for oral decided upon, the boys stripped off to their underwear and worked on their hard dicks while the straight porn played. They soon took off their underwear, Preston revealing a nice tan line while Leon's ass was as bright white as his chest. Sitting back down on the futon, Leon leaned over and put Preston's dick in his mouth, Preston leaning back and enjoying the hot, wet mouth enveloping his cock. A moment later and Preston was jerking off Leon even as he kept sneaking peeks at Leon's head bobbing up and down. He commented on how well Leon was sucking his dick, grinning widely and obviously having the blow job of his life.
It was time to switch, Leon sitting back and letting Preston work on his already hard as a rock dick. It was clear that Preston knew what he was doing as Leon was moaning and panting right away, Leon admitting that, as far as who gives the better blowjobs, Preston or girls, it was a very close call. Preston broke off for a moment, but only to move down to lick and nibble at Leon's balls. One thing about Leon, he isn't shy about saying what he wants his partners to do, telling Preston to 'suck that dick!' Preston sucked just on the head of Leon's cock, breaking off every now and again to lick the hard shaft and tongue his balls.
Leon took control, deciding that he and Preston were going to do a 69, so they opened up the futon and hopped back on, assuming the top to tail position. Both boys immediately started sucking cock again, Leon doing a fancy move that had Preston almost jumping off the futon at the unexpected sensations. I had to ask Leon what he was doing and he explained it as being an intense suction just on the head of the cock. Leon might have just been practising outside of the studio in order to pick that trick up. It was clear that Leon was too close to cumming to continue with the oral so they both took control of their own cocks, stroking hard. Leon came first, spraying cum over his leg, mattress and pubes. Now, it was Preston's turn and a few minutes later, cum spurted clear over his shoulder and onto the pillow he was laying on before another spurt coated his shoulder and upper chest.
Preston and Leon worked well together, having great chemistry so I told them that I would get them back in for an anal scene, both boys saying that they would be up for it.