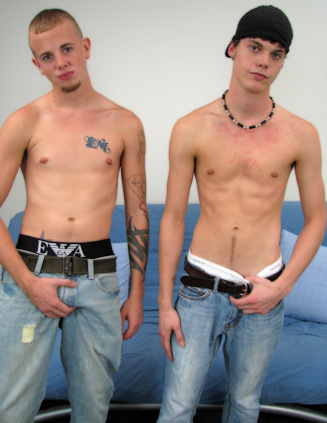 Today at Broke Straight Boys, we welcome back Mike Robbins, one of our members favourite models. This time, he's brought one of his straight friends, Josh, into BSB so that they can both earn some extra money after being involved in an accident. Mike and Josh have been friends for years and were hanging out together one day, doing some bush bashing in their all terrain vehicles, ATV's, when Mike cut Josh off, causing Josh to crash his four wheeler and break his foot. Josh is pissed off at Mike and wants him to pay half the cost for a new vehicle. So, Mike gave me a call to see if he could bring Josh along to a shoot so they could both earn some money, Mike telling me that he is going to give his share to Josh. Of course, I said yes.

Once on the futon, Mike told me how he went home and discovered that many of his straight friends and even his family, had found out he was doing gay porn. Although Mike is starting to make the transition from straight to bisexual, the majority of his friends are giving him a hard time, except for Josh. Mike and Josh went to school together and their friendship is strong enough that a bit of gay porn won't come between them. Josh was very good looking; 19 years old, straight, dark hair and tall. I offered Josh $200 if he jerked off alongside Mike, meaning he would get $400 all up towards a new ATV but he was very reluctant to do anything so I got Mike to show Josh how it was done in the hopes Josh would become more comfortable and go along with the shoot. Mike was stroking his cock as the porn played, telling Josh to whip out his dick and show it to the camera but Josh wasn't going to do that however, he did take off his t-shirt, showing his smooth body. I knew that Josh was perfect for BSB and that our members were going to love him. In no time at all, Mike was as hard as a rock but it didn't take long for Josh to also strip down to his underwear next to Mike.

Like always, Mike couldn't help himself from glancing over at Josh even as he continued to tug at his hard dick. Josh started playing with himself as he watched the porn; maybe this straight boy isn't so shy after all? And sure enough, Josh's underwear soon did a disappearing act as well. Josh's steady wrist action soon had his dick hard and although his cock wasn't as big as Mike's, it was just as nice with a set of low hanging balls. Rubbing a hand over his thigh, Josh, without warning, shot great spurts of cum over his stomach and hand, Mike watching intently as his friend earned himself part of the way towards a new four wheeler. Now it was Mike's turn to cum, and with a few minutes of furiously jerking off, he came, sprinkling cum in every direction; over himself, the futon and even Josh. I asked Josh if he wanted to come back to BSB and surprisingly, he said he was up for it. So, let's see how far we can get with this straight boy in the next few days?