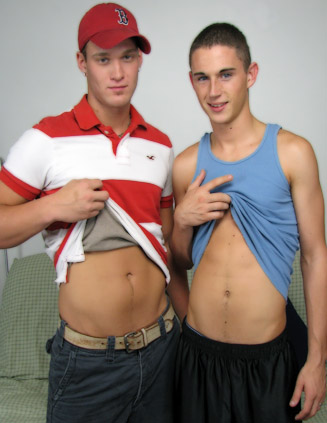 Putting two of our biggest models together to shoot one of the hottest shoots we have done, we had been receiving lots of requests to see Dustin and Tyler do a shoot together just the two of them. Both guys have worked together many of times in threesome or group scenes, but never one on one. To make that happen I arranged for them to come into the studio to do a shoot. When they arrived I pointed out to Dustin that we had received some flowers for him from a fan, who has done sent things before. Even though Dustin never would admit it, he likes the fact that people want to watch him perform the shoots and see his body. The fan found him on myspace, and from there he started sending little presents from time to time. Tyler on the other hand never received anything from a fan, and was a little jealous when he heard about it. Moving on, I told them that it would be an anal scene and that the fans had asked for Dustin to bottom in the scene, however when he heard that he quickly said no. As I started to up my pay, he continued to shut me down each time. He said that for him that his hole was an exit hole only, but then I brought up another topic and that was kissing. Fans and members of the site want to see Dustin kiss, so when I asked him about it. His response was that kissing is between him and girls, making it intimate. When he does a scene with a guy he can close his eyes and picture something else going on, but when it comes to kissing it's hard to block out the guy.

The only way I had been able to get Dustin to kiss was actually in a three-way with Tyler, Dustin, and another model. This time I offered them an extra $100 to give me kissing, and he turned me down. So, I brought up about showing their ass, and they said that it's something personal. We laughed about the topics and each of them gave their opinion. I raised the stakes to $300 extra to kiss, and I wanted something passionate. When I asked them to practice before the real thing, they told me to just let it happen, and so to get them doing something I asked them to take off their shirts. Standing they peeled their shirts off over their head, and continued to get down to just their underwear. Taking a seat on the couch they sat side by side watching the porn playing with their dicks. It was kind of a waiting game for both of them to get hard, Dustin was taking a little longer than normal, and Tyler was bouncing his dick off his hand. I told Tyler to go ahead and start sucking on Dustin's cock to get him hard. Putting the straight boy's dick in his mouth he used his talented tongue and was able to get him rock hard in no time. Dustin sat there on the couch just enjoying it, and so when I asked Dustin how big his dick was he said eight inches. When I asked him how big his shoes were, he said size 11.5 shoes.

The more cock sucking that I could get Tyler to do, the horny that Dustin would become to start the fucking. When they were ready, I had Dustin put a condom on himself, applied some lube, and made sure that he was hard and ready. Getting the bed in position, Tyler got on his back, and I asked Dustin who was standing at the foot of the bed if he was going to kiss for us. He told me to just let it happen, that he was thinking about it, but that it probably wouldn't be much. Moving in between Tyler's legs, he worked his cock into Tyler's tight hole, and the two of them began to fuck. Dustin happens to be a smooth fucker, even when he tends to make moments rough. Grabbing on to Tyler's thighs he used them to pull Tyler into him to make the fucking more intense. This was one of the shoots that I heard Tyler moan a whole bunch. I asked Dustin to kiss and he looked at Tyler, positioned his body over Tyler's while continuing to fuck, and lowered his lips so that they would kiss. The two hot, sweaty guys were now kissing for the first time, and they even put some light tongue into it.

After a moment the kissing was over, and they returned to doing what they do best. That's fucking! Tyler worked on jerking off so that maybe he would be able to shoot his load. Sure enough he was able to get his dick rock hard, and that's when Dustin went in for a second round of kissing. I was glad to see that they did it on their own and I didn't ask, make a motion or anything. When they broke lip contact, and Dustin was back up, Tyler let out that he was about to cum. He came while getting fucked by Dustin and his cum sprayed on his stomach. Dustin cheered him on as Tyler had his orgasm and shared his load. Dustin fucked for a few more moments, and then pulled out about ready to cum. However, by the time he got the condom off he lost the feeling. Stroking his cock though, he was able to get close to shooting his load again. He dribbled his load out on Tyler's lower pubic area, and then afterward the guys kissed one last time to close the shoot. Then, both of them were happy to collect their full amount for doing the shoot, and get a shower.