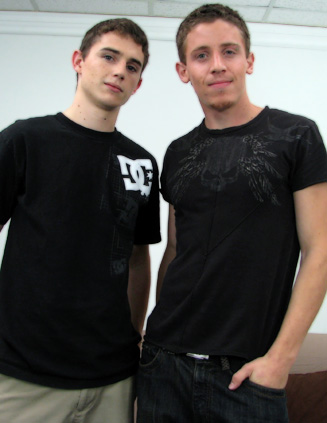 We have a surprise here at Broke Straight Boys; it's Tyler's 20th birthday. I told Tyler that a BSB members, Rifle, had a present for him and that we had also contributed to the occasion. Although somewhat apprehensive at what his 'surprise' might be, as soon as he saw who walked through the door, Tyler was grinning from ear to ear, obviously happy with his gift. Leon walked in, holding a large cake that Rifle had had custom made for Tyler while Leon was our gift to him. Tyler had a closer look at his cake; it was a beautiful looking cake, featuring a naked Tyler printed directly onto the white frosting with 'Happy Birthday' along the bottom. From Tyler's smile, he was looking forward to the shoot, agreeing that Leon was pretty sexy in his white undies. Right away, Tyler and Leon had a relaxed camaraderie together, just like their previous oral shoot. I told them that they were going to fuck, Tyler stating he was going to top while Leon agreed that because it was Tyler's birthday, it was whatever he wanted, although, Leon didn't look like he minded in the least. We agreed that Tyler would get $1000 for topping and Leon would get $1200 to bottom for his second time.
Tyler stripped off to his underwear, sitting on the futon next to Leon and with the porn playing, the guys had their dicks in hand and were starting to get hard. Once his underwear was off, Leon leaned over and took Tyler's cock in his mouth, cupping and rolling the heavy balls as Tyler looked down, watching Leon at work. Right away, Leon had Tyler rock hard while Tyler reached around to tug on Leon's dick. It was only a matter of minutes before Tyler was ready to fuck Leon's ass but in order to cool him down a bit, I told him to return the favour to Leon. They opened up the futon and lay down, Tyler swallowing down Leon's solid shaft while Leon wrapped a hand around Tyler's dick and jerked him off to keep him hard. Both boys moved into a 69 position, moaning from the double pleasure until it was clear that they were both ready to move things along.
Leon was down in the doggie position, leaning on a couple of cushions while Tyler was behind him, slowly pushing into that straight boy ass. Leon gasped and grunted in discomfort as Tyler kept inching his way in, telling Tyler that his cock felt huge inside of him. Tyler reached underneath Leon, taking his cock in a tight grip and giving Leon the BSB favoured brand of distraction. Still, there was no doubt that Leon was moaning every now and again in pleasure. Switching to an easier position, Leon lay on his back, legs on Tyler's shoulders, Tyler sliding right into Leon's hot ass. Driving his cock into Leon with short quick thrusts, Tyler ran his hand along Leon's chest, breathing heavy as he found a steady rhythm, while from Leon's moaning and rock hard cock, it was obvious that he was enjoying being fucked. The guys were so into it, I told them they should kiss, both boys laughing at first before I offered Tyler extra to do it. With a promise of an extra $200, Tyler leaned down and kissed Leon gently before, in an aggressive move, Leon twisted his fingers through Tyler's short hair and pulled him in closer for some very passionate kissing. Coming up for air, Tyler blushed, declaring that 'it was pretty good!'
He went right back to pounding Leon's ass, bending Leon's knees right back and going deeper than ever, Leon moaning at the new sensation. A word from Tyler that he was close to climax and he pulled out, jerking on his cock and cumming over Leon's upper chest. Tyler decided to help Leon out, wrapping his hand around Leon's dick and wanking him off hard and fast, Leon spraying himself in the mouth and over his stomach. I hope you all enjoy watching Tyler's birthday celebration as much as he enjoyed shooting it. Happy Birthday Tyler!